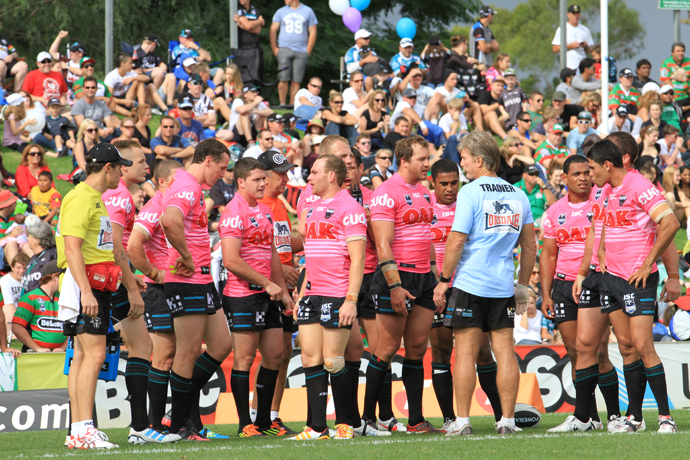 While the Panthers' performance last Sunday was difficult to watch, take solace in the knowledge that things could be worse… You could support Parramatta.
The Panthers head to Parra Stadium on Friday night to face an Eels' side whose 42-6 loss to the Cowboys left punters with no uncertainty about who should be favoured for the spoon.
And that, Panthers fans, could make them very dangerous.
At 0 and 3, pressure is mounting on Eels' coach Stephen Kearney, and his men will be desperate to relieve the pressure on their beleaguered boss.
Still, the Panthers will enter the match as favourites. They had the Eels' number last year, besting them on both occasions, including a memorable golden point victory off the back of a try scored after the full-time siren.
Michael Jennings created that magical moment in one of the few highlights of his otherwise indifferent season.
While he's started 2012 more promisingly, a poorly disciplined showing against the Rabbitohs should have him salivating at the chance to atone in this Battle of the West.
Of course, Jennings wasn't the only culprit last week – the Panthers were out-enthused in every facet, and Ivan Cleary will expect a big change in attitude.
Top of his wish list will be full concentration from the opening whistle. A knock-on from the first half kick-off and a dumb penalty following the second opened the door for the Rabbitohs, and they needed no further invitation.
If Penrith can cut out the silly errors and control the football, they should have Parramatta's measure. After all, they clearly have no problem scoring points, as evidenced by their 24-point losing haul.
The return of Tim Grant will help – his yardage up the middle has been sorely missed. However, it's understood he is still in doubt for the contest.
Sam McKendry had a massive game against the Roosters, and I thought Dayne Weston was a standout in a losing side last week. If all three of these fellas can fire at once, the Eels will be quaking in their boots.
Meanwhile, Luke Lewis is named at lock, switching with Nathan Smith. Expect the captain to see more ball this week, with less of the wide-running game we've watched in the opening rounds.
You may also notice a bloke named Mitch Achurch named on an extended bench. Recently signed, this 23-year-old has been tearing it up in NSW Cup – check out this footage at www.tinyurl.com/mitchachurch.
Whether he finds his way into the 17 this week remains to be seen, but we expect to see plenty of this kid as the season progresses.
Can the Panthers snare their second win of the season, or will the Eels rise to the occasion to post their first? It's a short drive down the M4 to Parramatta Stadium, so get out there on Friday night and show the Panthers your support.