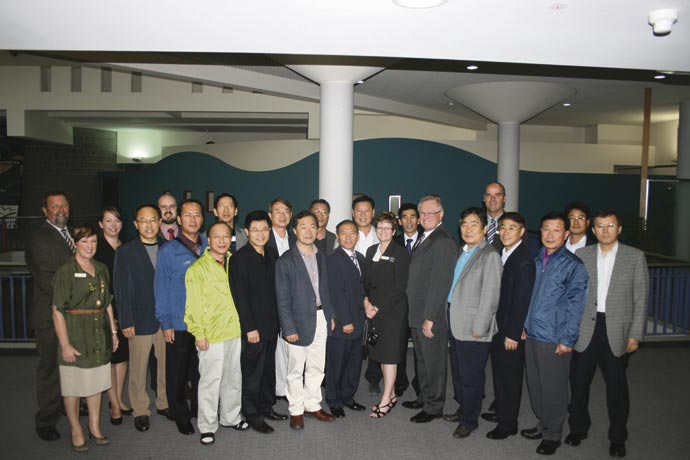 Penrith City's international relationships with China and Korea continue to flourish with local business delegations to visit those countries in late March and April.
Council's International Relations Officer Jill Turner said: "These developments herald the next step in the City's international partnerships and follow on from Council welcoming delegations from South Korea and China late last year."
The Penrith Business Alliance (PBA), is promoting Penrith and its City centre for would-be investors. It has been co-ordinating local business people to tour Penrith's Sister Cities.
"The PBA will send a delegation to visit Kunshan in China to progress collaborations and to exhibit at the China International Import Expo at the end of March. The delegation will take two booths at the Expo and will also meet with the Kunshan Chamber of Commerce," Jill said.
The invitation to the PBA follows Penrith City Council late last year hosting a delegation from Kunshan Province in China with which the City signed a Friendship Agreement in 2003.
The November visit saw an agreement signed so that the two regions will jointly promote medical research and collaboration as well as staff exchanges to generate significant health care, economic and social benefits.
The agreement was signed on behalf of the Nepean Hospital and the President of the First People's Hospital of Kunshan.
Meanwhile, in April this year a small PBA delegation is off to Korea to further discuss economic and educational opportunities between that country and Penrith City.
The visit stems from an important Memorandum of Understanding signed late last year by Paul Brennan, PBA Chair and Jin-Soo Song, President of the Gangseo-gu Chapter of the Seoul Chamber of Commerce and Industry.
Dr Hyun-Song Ro, Mayor of Gangseo-gu region in South Korea's capital Seoul led the business delegation to Penrith. Gangseo District signed a Mutual Cooperation Agreement with Penrith City in 1994.
"The highlight of the recent visit to Penrith was the signing of the MoU. It will help promote mutual economic benefits and learning opportunities in areas such as health, education and technology," Jill said.