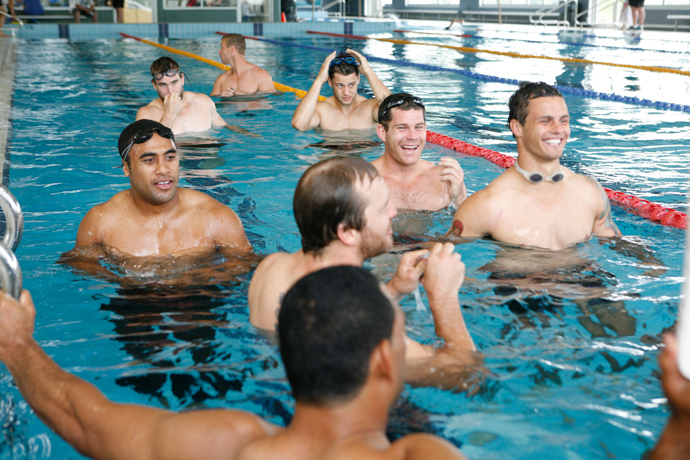 Every NRL contest is defined by moments.
Some make you cheer, while others make you groan. Some turn the tide of the contest, while others neatly sum up the day's performance. And some are simply those indefinable moments that make rugby league so special.
Here we look at five moments that defined the Panthers vs. Roosters game:
1. 14th minute – Blockbusting McKendry
The Panthers are enjoying good field position for the first time in the contest, but they're yet to threaten the Roosters' line. That changes when Sam McKendry bursts onto a short ball from dummy half. The NZ international bumps off 106kg Lama Tasi like he's a 50kg jockey, makes Mitchell Pearce look even more ordinary and bounds past Anthony Minichiello to touch down. Big Sam needed to step up in the absence of Tim Grant, and he does so in a big way here.
2. 28th minute – Burns' defensive brilliance
Twice in the space of two minutes, the Roosters run a pet play with a back rower running hard off a short ball from Braith Anasta, attempting to isolate a smaller defender. Travis Burns has their measure both times with two try-saving one-on-one tackles – first to chop down Mitch Aubusson inches short of the line and then on Boyd Cordner when he looks certain to score. Points here would have put the Roosters on equal footing going into halftime and changed the complexion of the contest entirely.
3. 34th minute – Fancy footwork from Jennings
Often maligned for failing to mix up his game, here Luke Walsh shows the damage he can do when he runs the ball. Darting across field, stepping away from defenders, Walsh throws a tired-looking Roosters defence into disarray. He then pops a ball to Michael Jennings who proves there's no better man to take advantage of a broken line, stepping past three players and reaching out to score.
4. 57th minute – Weston smashes Minichiello; Jennings strikes again.
As the Roosters raid down the right flank trying to find a way back into the contest, Minichiello suddenly sees the enormous shadow of Dayne Weston bearing down upon him. Mini rushes a pass to his outside man as Weston impacts, but it goes to ground… to be picked up by a flying Jennings. No one is going to stop him from there.
5. 62nd minute – Galea's toughness
We've got to give props to Danny Galea here. Jared Warea-Hargreaves cleans him up with what must be an early contender for hit of the season. Galea gets straight back to his feet and plays the ball, refusing to let the Roosters be buoyed by the hit.