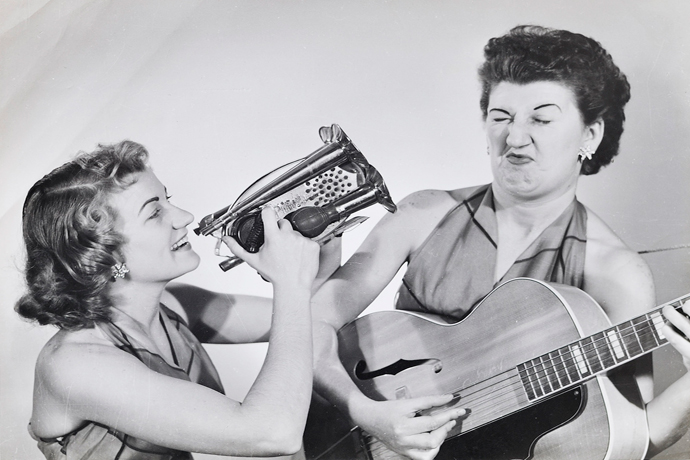 The wonderful Mary Schneider is one of Australia's true national treasures.
This inspiring woman has done it all time and time again, with nothing standing in her way.
Recently, Mary released one of her most important albums to date, which featured one of the most important people in her life – her late sister, Rita.
The Schneider Sisters – Rita and Mary – 'The Early Years' is a rare and treasured part of Australia's rich music history.
More than 50 years may have passed but now these timeless classics have, for the first time, been remastered and made available digitally and on 'old-fashioned' compact disc.
'The Early Years' showcases the careers of two of Australia's most beloved performers and songwriters.
Rita and Mary Schneider became household names through their live shows and recordings, and this album celebrates the first recordings they did together way back in the 'rocking' 1950s.
Mary said there was plenty of history around the making of the album all those years ago.
"We wrote and recorded all those tracks in the 1950s, including one of our best known hits 'Washboard Rock N' Roll', which came out in 1956," she said.
"My sister and I were originally from Brisbane but lived in Melbourne and people back then were saying rock n roll wouldn't last more than six months, so we hurriedly got together to produce a four-track EP.
"We had already recorded three tracks for the EP and needed one more. We wrote our famous 'Washboard Rock N' Roll' in an hour and recorded it the next day. That song was the first rock n roll song written and recorded by an Australian artist in Australia."
Fast-forward 50 years and a countless number of hits later, Mary decided it was finally time to dust off her old vinyls and get them digitally remastered, not only for her huge fan-base to enjoy but to pay tribute to her late sister, Rita.
"I really wanted to release this record because I lost my sister three years ago and I'm still really sad about it. We always wanted to put those early tracks together on a CD for historical reasons and to remember what country music was like in those days," Mary said.
"We would have loved to release this CD a lot earlier but we were both far too busy recording other albums and touring all over the place, we just couldn't get around to it. But after everything that happened with Rita I was just determined to do it in memory of my beautiful sister."
Mary was an important part of the Australian country music scene throughout her successful career. Listening back to some of her tracks featured on 'The Early Years' album you can tell country and western music has come along way, but still possesses those same values we hear today in modern day country music.
"Country music has changed in a way," Mary said.
"I like that old-fashioned western-style country music because that's what I remember from my childhood, but I think we have some wonderful artists around now who are great songwriters and I like that sound, too."
Mary believes Australian history is very important and wishes more music from Australia's golden era was available to the people of today.
"We need to cherish our Australian history, we are trying to collect a lot of things down in the archives but we haven't kept enough," she said.
"We did hundreds of those variety television shows like 'The Graham Kennedy Show' and people just taped over them and never kept them, it's a real shame."
Luckily for fans of the Schneider Sisters they'll get to own a special piece of Australian history with the 'The Early Years' and so far, according to Mary, people have been 'jumping at the bit' to snap up their copy.
"The feedback from the fans has been wonderful, with people saying 'I've always wanted to get that', I've truly been over-whelmed by the response," she said.
Mary and Rita stayed together musically for 25 years before they went their own way. In 1971, Mary gave birth to her daughter Melinda (Schneider), who now is a successful country recording artist herself.
After the birth of Melinda, the pair broke up amicably with Rita carving out a successful comedy career and Mary turning her sights to yodelling.
Yodelling took Mary all over the world and she has since been given the title of the 'Queen of Yodelling'.
Mary's career in yodelling was enormous. Her music appeared in a number of well-known movies and television shows including the Disney movie 'I'll Be Home For Christmas', 'Just Married', 'Dirty Deeds', 'Dudley Do Right', as well as international commercials for McDonalds and Miller Beer.
Throughout the United States, Mary has appeared on some big time shows including 'Regis and Kathy Lee', 'Good Morning America', 'Good Day New York', CNN's 'Showbiz Tonight' and the infamous 'Howard Stern Show'.
"People had to twist my arm to do 'The Howard Stern Show'," Mary said.
"I was a bit 'iffy' about it but he loved what I did, so I ended up going in there with my daughter, Melinda.
"I went in there because he wouldn't stop playing my records."