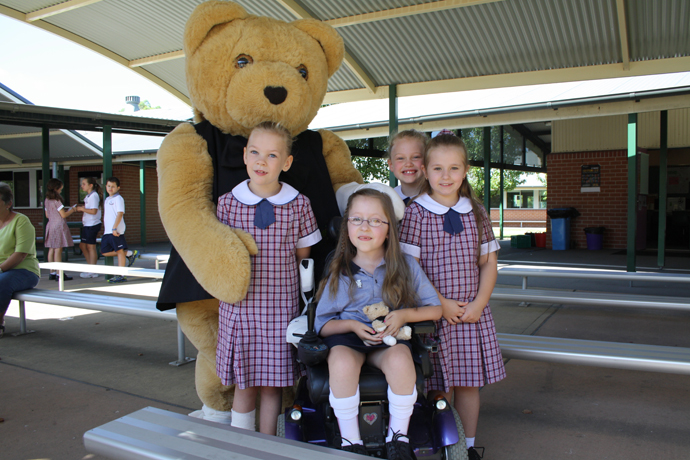 At ten months old, when most children are learning how to crawl and walk, Holly Sultana moved her arm for the very first time.
Her parents, Daniel and Lara, cried tears of joy for their baby girl who was born with a disorder that severely affects her movement, muscles and joints.
Now seven years old, Holly has had a series of operations at The Children's Hospital at Westmead to help manage her condition – the first on her feet at just seven months old and a back operation just this month to lengthen growing rods inside her spine.
"Holly is always amazing us. Her condition affects every joint in her body – her spine, neck, hips, knees, ankles and all the joints in every finger," Mrs Sultana said.
"Even though she has no movement in her wrists or fingers, she has taught herself to write."
Holly attends Surveyors Creek Public School and has been chosen as this year's Bandaged Bear Appeal ambassador.
The Bandaged Bear made a special visit to the Glenmore Park school last Friday, with students and teachers wearing bandages as a sign of support.
"Holly was very excited to be chosen as the ambassador for Bandaged Bear – she's like Penrith's little celebrity now," Mrs Sultana said.
Despite being confined to a wheelchair, Mrs Sultana said her daughter never questioned why she "might be a little different" to others.
"She never asks questions, Holly is just happy all the time. And she always gives everything a go, no matter what," she said.
Holly's close friends – Tahlia, Samantha and Alicia – had nothing but praise for the seven-year-old.
"We love playing with Holly, we always play hopscotch and what's the time Mr Wolf," Samantha said.
"We have no one to play with when Holly's not at school," Tahlia continued.
For more information on the Bandaged Bear Appeal, visit www.bandagedbear.com.au.