After a long night of heavy rain and rising floodwaters, Londonderry residents returned to their homes this morning to find devastation and chaos.
The worst hit of the Penrith suburbs, which saw 100mm of rainfall last night, Londonderry is still largely under water, with homes along Torkington Road, Warrina Place and Nutt Road still partially submerged by stagnating floodwaters.
HEARTBREAK:
Three years ago, Shaun McGovern and his wife Belinda purchased their home on Warrina Place, Londonderry.
After renovating the home, including new paint, floors and an enormous stainless steel barbeque, they had created their dream home.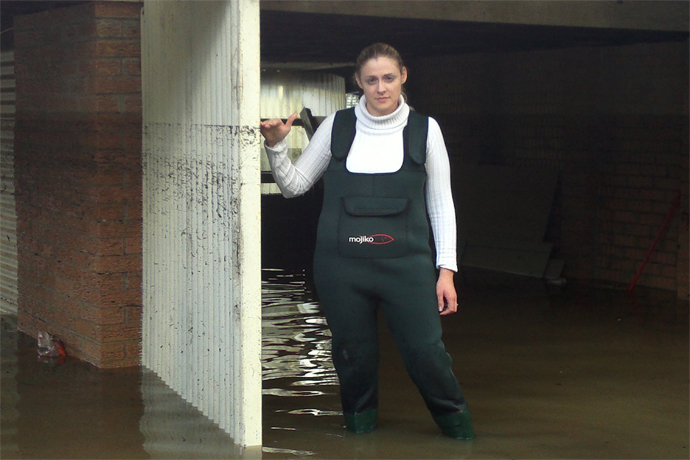 But the young family suffered a massive setback when floodwaters flowed through their back door and out onto the street.
"I stayed the night to look after the place but the SES came and rescued Belinda and our nine-month-old daughter Chloe. We also had two of our goats rescued because there was just not enough dry land for them," Mr McGovern said.
Even this morning, what used to be a small dam with a 'billabong' sign for humour was a torrent of water strong enough to destroy fencing and sheds.
But worst hit of all the residents was Brett Laundess, whose house was still in a 200 metre long lake at ten o'clock this morning.
"The bottom of the cars began to flood so we were jacking them off the ground but in about one and a half hours the water was steadily rising around the house," Mr Laundess said.
A friend who had come to help Mr Laundess with his horses lost his car in the flood; it floated 100 metres away from where it was parked at Mr Laundess' house and was visible this morning on Torkington Road in what many residents described as the second Nepean River.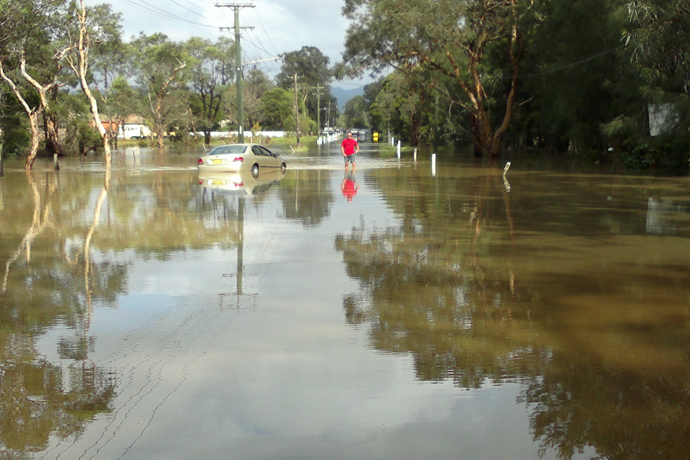 A neighbour who had lived on Torkington Road for over 50 years said that he had not seen flooding on this scale since 1975.

ANIMAL RESCUE:
As the floodwaters gained metre upon metre during the night, many Londonderry residents put their pets and livestock before their own safety, ensuring birds, cats, dogs, goats and horses were not in danger.
Shane Nolan, his wife Lisa and four sons live at in the cul-de-sac of Warrina Place.
Their backyard, normally a haven for their many birds including geese, ducks and budgies, was swamped with debris reaching up to 2m in height at the peak.
"We have a lot of birds in aviaries in the backyard and we had moved some of the smaller cages to higher ground, expected some flooding. But by midnight, I was standing neck deep in water in my backyard, cutting the aviaries open to save the birds. The water just rose so quickly," Mr Nolan said.
"We have lodged a claim with insurance this morning but it will take some time before it is approved."
The chickens have now taken over the Nolans' lounge room while the floodwaters subside.
Mrs Nolan was still in shock this morning when she returned to the property after staying the night in the Chifley Hotel at Penrith Panthers.
"Part of me just wants to knock the house down and start again, it is just destroyed," she said.
On nearby Nutt Road, seven Jack Russell dogs and a greyhound with her pups were fortunate to survive after being stranded in one of the lowest lying areas in Londonderry.
Jill Clint, who runs Jack Russell Rescue, a rescue centre that adopts Jack Russell dogs that are going to be put down by the pound, was fortunate that her neighbour saved her seven dogs.
"He could see the water rising and got them out of the kennels. If he hadn't done that they would have drowned because the water came up and it was too deep and dangerous," Ms Clint said.
A greyhound and her pups were also rescued from Nutt Road.
SES workers took a boat into the waters this morning and came back carrying the shaking mother and her puppies who will make a full recovery.
10-year-old Taylor McDonald of Torkington Road was worried about her pony at the back of the property when she woke up this morning.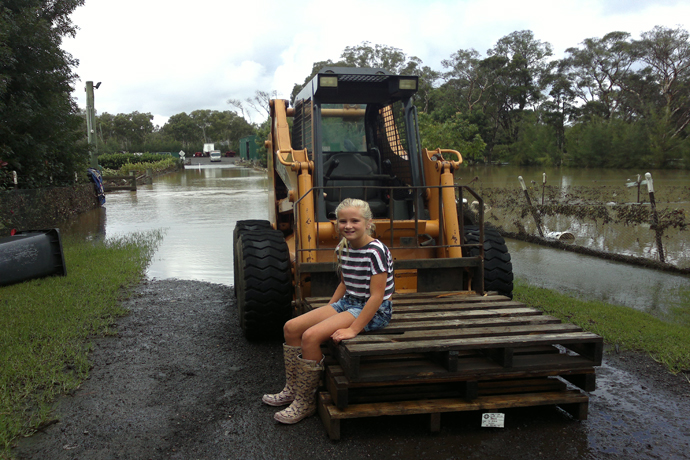 "Dad actually rode the jet ski to go and check the pony was alright but it was only on a tiny bit of grass and completely surrounded," she said.
Taylor is one of many children in Londonderry who will be giving their parents a hand to clean up the debris carried by the floods onto their property.

A LUCKY ESCAPE:
Mark Chandler was one of three residents on Warrina Place whose house escaped the floodwaters by mere centimetres.
"I have lived in Londonderry for nearly 20 years and I have never seen flooding like this. You can see the watermark at the very entrance to the street. I was lucky that my house stayed dry but across the road and down the street really copped it," Mr Chandler said.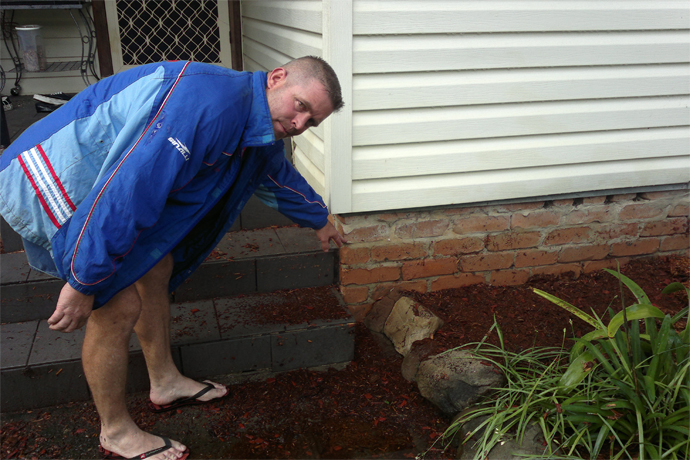 The watermark created by debris that was floating on the surface of the water can been seen on the brickwork of his house.
"I knew the water was going to affect a lot of the neighbours on our street so we all got together and started evacuating – carrying possessions to higher land, SES came to help and did a great job," he said.
For Susan Sammut, a resident of Bennett Road, Londonderry for 12 years, it wasn't until the school run this morning that she realised how bad the flooding really was.
Mrs Sammut would normally drive along Carrington Road to take her three children, Jayden, 12, Mitchell, 8 and Tamika, 6, to school.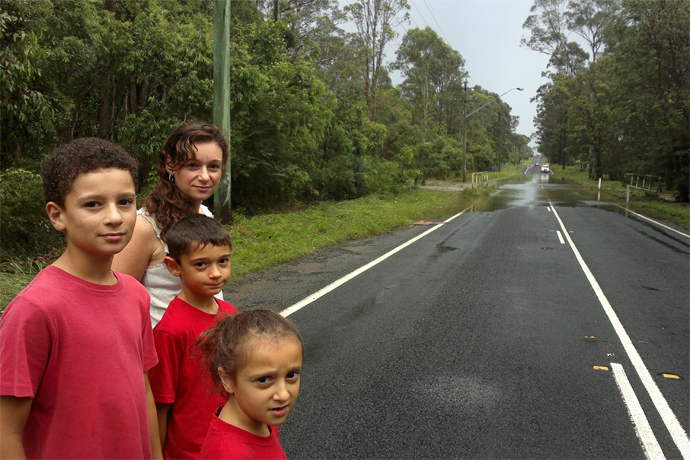 However, this morning a torrent of wate
r, which is normally the gurgling Rickabys Creek, had dissected the road.
"Never in my life have I seen the creek flood like this," she said.
"I thought Bennett Road was the lowest lying area of Londonderry but we are fortunate we have not been affected. It was definitely raining very hard last night."
"Even the drains at the school couldn't keep up with it," added Mitchell, who said the rain was torrential even when they left school on Thursday afternoon.
THE HEROES:
Steve Crellin, from Penrith Towing, was one of the many tow trucks helping Penrith residents last night salvage their cars as rain floods the Penrith CBD, Cranebrook and Llandilo.
"One of the cars I rescued was actually floating in the water at 2nd Avenue and during the night I went to about three jobs. There were at least six that came through work but many people were also waiting for the NRMA roadside assistance to turn up," he said.
"I got home at 2am and still don't believe how much water there was on the roads."
Mr Crellin had lunch with Mark Geyer, who came out with the crew from Triple M radio station this afternoon to give support to the community.
"Penrith is a tight knit community and everyone really pulls together," Mr Geyer said.
"It is strange to think that 12 months ago we were here organising donations for people involved in the Queensland Floods and now were are in the same situation."
An off-duty police officer has been commended for coming to the rescue of a woman after her car was swept off the road during the heavy rains.
About 8.15pm yesterday police were called to Cranebrook Road cross of Olive Lane, Cranebrook, following reports that a car had been swept off the road during heavy rainfall.
Police immediately responded to the incident however were impeded from reaching the area due to deep water on the road.
At this time an off-duty officer was also alerted to the woman's need for assistance and was able to reach the woman who was near his house.
The off-duty officer, who is attached to the Mount Druitt Local Area Command, attempted to help the woman out of her vehicle, which had been forced off the road and into a barbed-wire fence.
The fencing prevented the woman from being able to leave her car so the officer used bolt-cutters to help free the woman from the car.
The woman suffered from shock as a result of the incident, however did not suffer any other injuries.
"The actions of this officer are more than commendable," said Detective Inspector Grant Healey, Penrith Local Area Command's Crime Manager.
"He acted quickly and risked his own safety to help the woman out of a very treacherous situation," he said.
"The woman is very lucky and has expressed her sincerest gratitude for the actions of the officer."