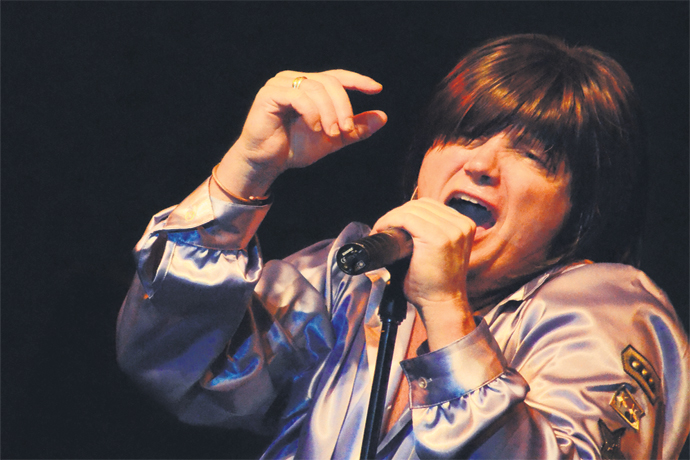 All Penrith Panthers fans know the loveable Scott McRae for entertaining the fanatical crowds at Panthers' game days during the season.
But next weekend he's set to entertain a whole new audience (of the music kind) at the world premiere of 'Stevie' – The life and music of Stevie Wright and The Easybeats.
This upbeat live rockumentary takes the audience on a thrilling journey of Stevie's incredible life from the beat of the 60s to the hard and heady days of the 70s and 80s.
Scott not only stars in the show but is the man responsible for putting the whole production together right from the very beginning.
"It all started when I was working on a morning show for WIN Television as a script-writer. I was trying to arrange some guests for the show and saw Stevie Wright's name on the bill as one of the performers at the Adelaide Festival, so I thought I'd get him in for an interview on the show," Scott said.
"When I saw him interviewed on this morning show I thought 'Crap! What the hell happened to this guy?' I wanted to know his story, so I started to do some research and basically got the whole gist of what went on.
"I thought to myself that his story was unbelievably fascinating and the songs speak for themselves (referring to The Easybeats and his solo material)."
'Stevie' is set to be a live extravaganza complete with an exciting multimedia element that has rarely been done in rock shows like this before.
Audiences will enjoy big screen interviews specifically filmed for the production with people such as Angry Anderson, Jon English, Snowy Fleet, Kevin Borich and a cast of others who each have a story to share about the Aussie rock legend.
Scott, all decked out in costume, fronts an awesome live band, singing the hits and telling the captivating stories that are sure to rock the audience inside and out.
"When the stage opens up we hit the crowd with 'Evie Part One' and then I start telling the stories. During this time there'll be old photos and clips playing on the big screen," Scott said.
"This is the first time this story has been told live this way and it's very exciting. The whole process has been very daunting but it's getting to the point now where I can't wait to get on stage."
Scott stresses that in no way is 'Stevie' a tribute show or an impersonation act, but instead a total re-telling of Stevie's infamous stories, as well as performances of his most famous songs.
"I'll be dressing like him and I'm going to tell the story of him but I'll never say I'm Stevie," he said.
"It's not an impersonation show but I will have that full flavour of what he was and will hopefully be channelling him. Stevie and I have very similar energy levels, which is needed to indirectly portray him."
Stevie Wright was the lead singer of one of Australia's greatest pop/rock bands of the 1960s, The Easybeats.
The English-born Australian musician was once branded Australia's first ever international pop star and was responsible for some the biggest songs of the 60s and 70s.
Fans in Australia and around the world were going crazy for songs like 'She's So Fine', 'Wedding Ring' and the 1966 number one smash 'Friday On My Mind'.
When The Easybeats parted ways in 1969, Stevie went out on his own and started performing in various other bands before finding his feet as solo artist in 1974 when he released his mega 11 minute song 'Evie Parts 1, 2 & 3'. The song went number one all over the world and is regarded as an Australian classic.
Scott recalls a story of the first time he fell in love with the music of Stevie Wright as a young boy way back in 1979.
"I remember when I was young there was this thing called the 'Concert of the Decade', which was run by a popular radio station at the time, 2SM," he said.
"My friend and I caught the ferry from my home in Manly and headed to this massive free concert in the city that had 250,000 people there. Stevie was the headline act and just came on to perform all three parts of 'Evie'. I was left blown away and knew I just saw something special."
When Scott pitched his idea to Stevie over lunch more than a year ago, he was confident he could convince the legendary rocker to approve the concept on his rollercoaster life story.
"We showed him all the research we'd done and all the photos we'd found and you could just see the glint in his eye – it was like a switch being turned on," Scott said.
"We were talking about his favourite songs and him and I ended up singing in the restaurant together off-the-cuff.
"To have him on board has been great because I can always ring him to verify things. There's been plenty of times I've spoken to him and he's telling me a story and says 'Scotty, you can only use half of that, don't give them the full version it's a bit hardcore'."
With a long two-year journey of planning and rehearsing about to come to a head, Scott's only wish is that he makes his friend Stevie, who will be in the audience on the night, proud.
"All I hope to get from Stevie at the end of it all is a big hug and a wink in the eye saying 'You did a good job son', that'll do me!"