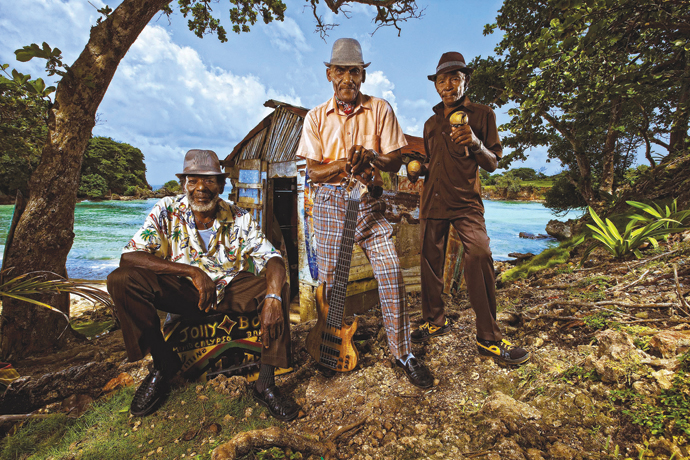 The Jolly Boys are one of the world's great living music treasures and they're headed to the Joan Sutherland Performing Arts Centre for their very first Australian concert on Friday, January 6.
The Jolly Boys are a six-piece Mento band from Jamaica whose music fuses classic mento with contemporary rock and pop standards. They even do an amazing cover of Amy Winehouse's 'Rehab'.
Mento was the music of the Jamaican dancehalls before ska, rocksteady and reggae came along. Dating back to the late 19th century and often confused with calypso, it has a rawness and rhythmic feel that is uniquely Jamaican.
For nearly 60 years, The Jolly Boys have been integral to the fabric of Jamaica's musical landscape and cultural heritage. With their latest album, 'Great Expectation', The Jolly Boys give a mento makeover to the likes of Lou Reed's 'Perfect Day', Johnny Cash's 'Ring Of Fire' and even New Order's classic 'Blue Monday'.
The Jolly Boys' rise into the music industry is a story worth telling. In 1946, actor Errol Flynn purchased Navy Island in Jamaica. Here Flynn berthed his yacht and staged unending parties that became the stuff of legend.
The entertainment Flynn featured most often was a small local group called the Navy Island Swamp Boys. The mentos, calypsos and rumbas they played were the perfect soundtrack for the excesses of Flynn and his friends.
When the band expanded, Flynn dubbed them 'The Jolly Boys' and their music quickly came to define mento and calypso entertainment in Jamaica.
The Jolly Boys had a committed core of musicians, even though up to 18 members have passed through the group over the years. By the end of the '60s, the band had become an important part of Jamaica's north coast entertainment industry, often performing with dance troupes in floorshows for VIP visitors.
Few artists come close to matching the longevity, potency and originality of The Jolly Boys in terms of their sound, style and impact.
The Jolly Boys light up the Joan Sutherland Performing Arts Centre on Friday, January 6 at 8pm. To book, call 4723 7600.