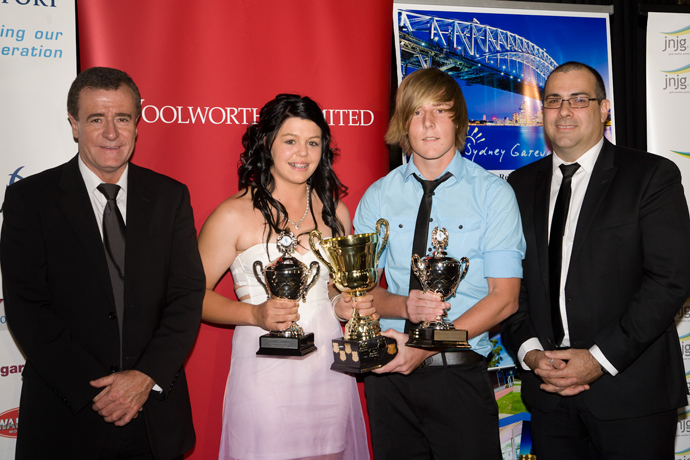 Some of the western Sydney region's most outstanding athletes were recognised at the 7th Annual Athlete Dinner and Awards Night held by the Western Sydney Academy of Sport last weekend.
The Academy, which provides endorsed high performance training programs for western Sydney's best pre-elite athletes across seven sports disciplines, recognised the Athlete of the Year for each of its programs.
The 2011 Woolworths Scholarship recipients were also announced at the event with the winners receiving $5,000 cash grants to assist with sports participation and education costs.
The event, which was attended by 260 athletes, family members, sporting, corporate and government partners, was highlighted by a special guest appearance from one of Australia's true athletic greats, Melinda Gainsford -Taylor.
Academy CEO Martin Bullock said the Athlete Awards Dinner was a "magnificent showcase" of the region's best athletes.
"The Academy's athletes represent the best young pre-elite sports people throughout western Sydney," he said.
The Western Weekender is a proud corporate partner of the Academy.
2011 Woolworths Limited Scholarship – Male Athlete: Hayden Mathews (Softball)
2011 Woolworths Limited Scholarship – Female Athlete: Taylah Tsitsikronis (Softball)
2011 Team Athlete of the Year: Kristina Brice (Netball)
Golf Athlete of the Year: Grant Booth
Lawn Bowls Athlete of the Year: Michael O'Loughlin
Netball Athlete of the Year: Kristina Brice
Softball Athlete of the Year: Alice Donohoe
Slalom Athlete of the Year: Noemie Fox
Tennis Athlete of the Year: Nicholas Farmer