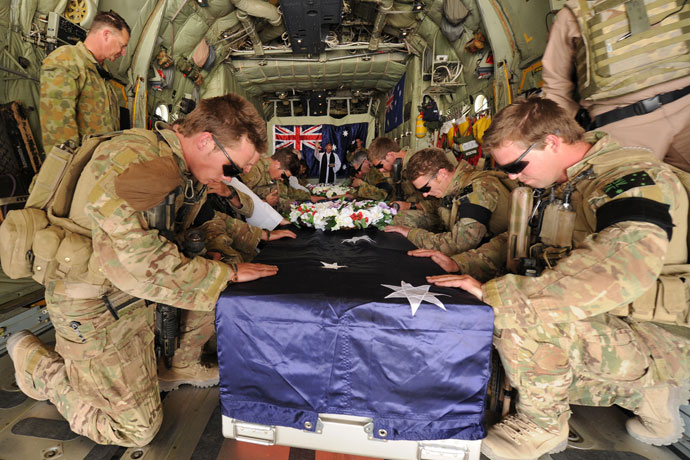 The St Marys RSL Sub-Branch has pledged to do everything it can to support the wife, children and family left behind after Lance Corporal Luke Gavin was gunned down whilst serving in Afghanistan.
President of the Sub-Branch, Gary Fizzell, said it was upsetting to know the Lance Corporal was from St Clair.
"It's a shame he came from our area," Mr Fizzell told the Weekender.
"His poor wife and three children will understandably be very upset right now. We will give them time to grieve in private and then we will follow up with the family to see if there is any support we can give."
Lance Corporal Gavin was one of three soldiers killed in Afghanistan last week, and the tragic incident has fuelled debate about whether our soldiers should continue to serve in the country 10 years after the operation commenced.
"Everybody is quite disgusted with the way it happened – they are over there to help and this is what happens," Mr Fizzell said.
"But the general opinion from my members is that the boys over there are doing a worthwhile job.
"Maybe we should look at the war in the same perspective as the diggers on the ground in Afghanistan. We wouldn't be there if it wasn't important."
Prime Minister Julia Gillard said this week that the incident would not change the mission in Afghanistan.
"Attacks like this are designed… to corrode trust, that's the purpose these attacks. It's an attempt by our enemy to strike at the core of our training and mentoring mission in Afghanistan," she said.
"Our partners in the Afghan National Army are shocked and horrified by what has occurred. We know the act of this Afghanistan member was not in the interests of the people of Afghanistan."
Mr Fizzell said it was easy to lose sight of a mission's purpose when soldiers are killed.
"It's very upsetting when they are sent back home in a coffin and sometimes I think that we shouldn't be there," he said.
"Members of the Sub-Branch have all been through it and we can sympathise with how upsetting it is."
MORE COVERAGE IN FRIDAY'S PRINT EDITION OF THE WEEKENDER