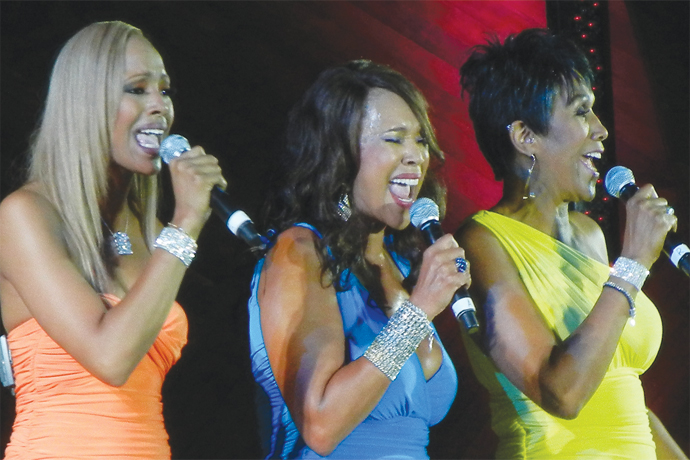 You could almost bet your lifesavings that nearly everyone at some stage or another has either tapped their feet, sung along or danced to one of the Pointer Sisters' many catchy hits.
Their famous songs like 'I'm So Excited', 'Jump (For My Love)' and 'Neutron Dance' are permanently entrenched in jukeboxes and radio station playlists all over the world, and DJ's often turn to the Pointer Sisters' party starters to kick along any boring get-together.
Ruth Pointer, one-third of the Pointer Sisters act, said she's still amazed their songs, some recorded more than 30 years ago, are still getting people up and dancing to this day.
"We haven't recorded anything new in quite a while and it amazes me that our audience is still very receptive to the songs we sang in the '70s, '80s and '90s," she said.
"It absolutely surprises me that they (fans) still want to hear our songs and come out to see us play and give us a lot of love."
Love is exactly what the Grammy award-winning pop act want when they set the clock back next Saturday, November 19 at the EVAN Theatre inside Penrith Panthers.
Ruth said it doesn't matter how old a song is, as long as it has a good beat and rhythm it can last forever.
"Personally I just think good songs are good songs, it doesn't matter how old they are," she said. "To me I'm an R&B enthusiast, I love the old Motown songs and most of the old R&B stuff from the '50s, '60s and '70s. A good dance tune always lasts."
The Pointer Sisters were raised in Oakland, California and grew up on gospel music, largely thanks to their parents being ministers at their local church. Never in the girls' wildest dreams did they think that singing in the church would one day make them one of the most sought after acts around the world in the '70s and '80s.
"My parents were both ministers and we always sang, not realising when we were so young that it was anything special at the time," Ruth said.
"We just sang because we enjoyed doing it and because our parents required us to, but we would sing in the church choir and do special numbers during the Sunday services ­– it was just something we loved to do."
Fast forward just a few years and the Sisters would go on to receive worldwide fame and secure a place in pop music history as a dynamic female group.
Their first performance in Los Angeles at the Troubadour club was hailed by critics for its versatility and range and called the Pointer Sisters 'the most exciting thing to hit show business in years'.
But Ruth Pointer was never actually part of the original line-up, preferring to look after her young family rather than live the roller coaster ride that is the music world.
"I'm the oldest out of my sisters and when I was in high school in Oakland I did sing and dance a bit with a girlfriend of mine, but it never occurred to me to pursue singing as a profession," Ruth said.
"My sisters only picked up singing in the late '60s early '70s and by that time I was married with a couple of kids to support and it wasn't something I thought I could make a living off at the time."
But it wasn't long until Ruth decided to join her sisters.
"I was working this really boring job as a machine operator and one day I had to fill in for my sister doing some studio work… and I recall making $100 in a matter of hours and thinking 'wow, if I can do this for the rest of my life this would be way better than sitting at that machine all day long for eight hours'," Ruth laughs.
Over the years the money and opportunities kept rolling in and the sisters found they were almost over-working themselves at times.
"We were very new, young and full of energy," Ruth said.
"The only thing I can say about it was we didn't realise how exhausting it would be and we didn't know how to say 'no' at times. We wanted to do everything and sometimes people would take advantage of us."
Despite the gruelling yet exciting times as a world famous music act, the hard work finally paid off with the first of the Sisters' many Grammy wins coming in 1975 for 'Best Country Performance by a Duo or Group'. That's right, the pop and R&B influenced Sisters won their first Grammy for a country song!
"Country music was something that was in our blood," Ruth said.
"Our parents were from the south and the only music we could listen to was country tunes on the radio.
"My mum and dad were really not that happy about the rock n' roll that was coming in with Elvis, James Brown, Little Richard and… its influence on their little religious daughters, so country music was something that was kind of safe.
"My sisters Bonnie and Anita had written this country song called 'Fairytale' and a producer took them to Nashville to authentically record the country song."
Ruth said they were shocked when they heard the news they had won their very first Grammy for a country record.
"We were on the road and we got told 'you won a Grammy'… and we said 'are you kidding me?'. It was an absolutely wonderful surprise," Ruth said.
The Pointer Sisters will perform at Penrith Panthers on Saturday, November 19 at 7.30pm. Tickets are $84.90 for adults. For more information and to purchase tickets call 1800 061 991 or visit www.penrith.panthers.com.au.