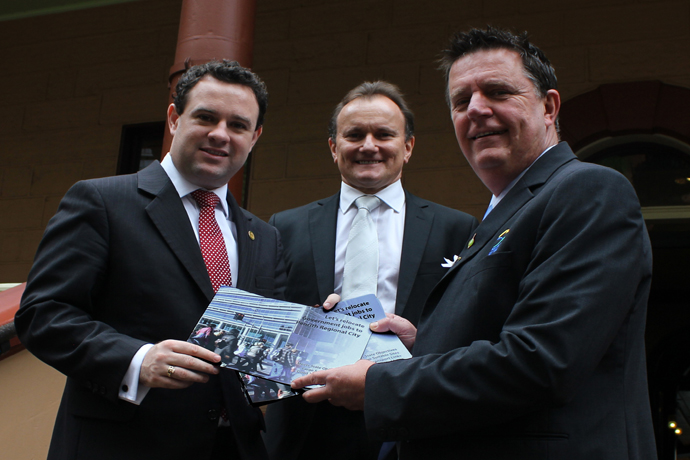 3000 new jobs would inject an extra $671 million into the City's economy so last week Council delivered a convincing business case to Parliament House, calling for government jobs to be relocated to Penrith.
"We want the State Government to deliver jobs to the City so last week I personally delivered our proposal to Parliament House," Penrith City Mayor Greg Davies said.

"We heard the Government was looking to relocate offices from high cost areas in North Sydney and the Sydney CBD and saw it as an opportunity to promote Penrith City as the ideal solution.
"Council and the Penrith Business Alliance developed a compelling business case setting out the advantages of relocating government jobs to Penrith. Last week I personally handed our proposal to the State Member for Penrith at Parliament House. Copies have also gone to the Premier and key Ministers."
There are many advantages to relocating jobs to Penrith City for both Government and our City, according to Penrith City Council Director Barry Husking.
"There's a number of suitable development sites close to existing public transport at around half the cost currently being paid for government office space," Mr Husking said.
Member for Penrith and Deputy Chair of the Economic Development Committee, Stuart Ayres MP has committed to take up the message in State Parliament.
"Moving government jobs to Penrith will deliver on both the land use planning and employment objectives of the 2021 State Plan, the Sydney Metro Plan and the Penrith City Strategic Plan as well as reduce road and rail transport demand from Penrith to distant parts of Sydney," Mr Ayres said.
"It will take advantage of a regional workforce offering demonstrated strengths in administration, health and education already in Penrith City," he said.
Council and the PBA aim to attract at least 3000 government jobs to the City. As a Regional City, Penrith has a role to play that is broader than our City boundaries, both in terms of employment and providing services.
"Our research shows if 3000 new government jobs were added to our City's economy there would be a permanent nine per cent increase – or $671 million – added to Penrith City's Gross Regional Product each year," Cr Davies said.
"It would also create an additional 2,190 new service jobs based on various local economic multiplier effects – that's a total of 5190 new jobs for Penrith City.
"Every day more than 50,000 workers leave the region. That's a lot of wasted hours spent commuting and travelling that can be better spent at home, with family and friends and in the community.
"More jobs for our City is my highest priority as Mayor and I aim to ensure it's heard at every opportunity."