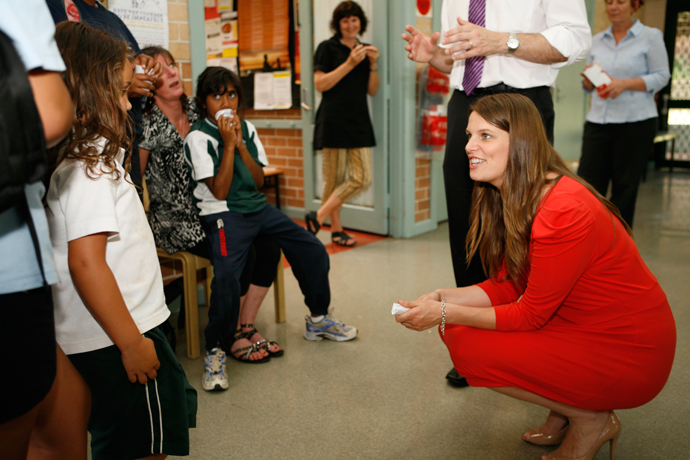 Community organisations, not-for-profit organisations and local government bodies are being encouraged to apply for Federal Government funding to deliver education projects to young Australians, aimed at preventing violence against women.
The Minister for the Status of Women, Kate Ellis, was joined by member for Lindsay, David Bradbury, in Cranebrook on Wednesday to call for applications for total funding of up to $3.6 million, which is available under the Respectful Relationship Round Three.
School students living in Lindsay have benefited from a $391,000 educational program delivered by the Baptist Community Services, which was funded under earlier rounds of the Respectful Relationships.
"In this country, nearly one in three women has experienced physical violence and almost one in five women has been the victim of sexual assault," Ms Ellis said.
"These statistics are heartbreaking and they are unacceptable.
"The Australian Government has a zero-tolerance for all forms of violence and today we are calling on organisations across the country to join us in our fight to reject and prevent violence against women."
The Respectful Relationships initiative seeks to prevent violence against women through education of young Australians.
Funding is available for projects to educate these young people, to help them understand ethical behaviour and develop protective behaviours. For this round of Respectful Relationships, organisations will be able to apply for funding to support programs aimed at children as young as 8 in recognition of the fact that attitudes about violence can be formed at an early age.
"We have a lot of great community organisations in our local community who are working with our youth to promote the importance of respecting each other and themselves," Mr Bradbury said.
"Since 2008 Respectful Relationships education has been delivered to almost 24,000 young people across Australia, including many in Lindsay."
Applications close on December 9. and details are at www.fahcsia.gov.au.
While she was in Penrith, Ms Ellis also attended the annual Penrith BEC Sponsor's Luncheon.