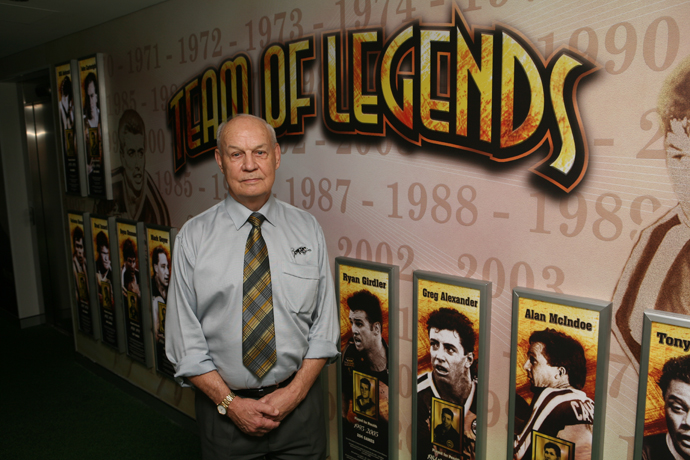 Panthers Chairman Don Feltis says the club's current board should be retained so it can finish the job it started.
Elections at Panthers conclude this weekend and Nadim Joukhadar and Nigel Highley are the only two non-current Board members contesting the battle.
The pair claim changes are needed within Panthers.
"Over the last five or six years, the club has been losing money and money has been misdirected," Mr Joukhadar told The Sun Herald recently.
"That's got to change. We have to come back to our core reason for being and that is football."
But in an interview with the Weekender, Mr Feltis said he was determined to ensure the football side of things was looked after.
"The new group structure that was put in place by the Board earlier this month provides for dual leadership, which involves Phil Gould in charge of rugby league, Sue McNeill in charge of all 14 licensed clubs and Warren Wilson in charge of business strategy," Mr Feltis said.
"This structure has brought together the rugby league side of things with the licensed club side of things and will guarantee that all major departments of Panthers will be focused on 'big picture' development of the Panthers brand.
"The board is very conscious that the club had it's beginning from rugby league and that rugby league is the 'core' of the clubs existence and will never change whilst this board represents the members."
Mr Feltis said while he acknowledges that communication of Board decision making to the membership base could have been more pro-active in recent times, he said difficulties often arise in this regard.
"The problem we have is that a lot of decisions made are confidential. They concern staff and club members, our business partners, players, sponsors, suppliers etc," he said.
"Many of these people do not want their business dealings with Panthers publicised. The Board also makes corporate and strategic decisions that we do not want advertised to our competitors."
Mr Feltis believes the current Board has made significant steps forward in advancing the future of Panthers, and is calling for it to be retained.
"This Board should be retained because it has strong corporate balance with the directors having considerable experience and business knowledge which are important ingredients towards quality decision making," he said.
"During the past two years since their election they have had to make numerous demanding and challenging decisions and they have done that without fear or favour. They are not remunerated. They are serving our club because they want to do it and they care about our profile and reputation. They do it because they are dedicated and committed to manage Panthers out of a most significant debt that they inherited. I have no hesitation in saying that astute decision making by this board during the past two years has guaranteed the future of the Panthers group."
In ballot order, those contesting the current election are: Nadim Joukhadar, Brian Fletcher, Kerry Lowe, Stephen Robinson, Keith Rhind, John Hiatt, Don Feltis, Terry Heidtmann, Greg Alexander, Denis Merrick and Nigel Highley.