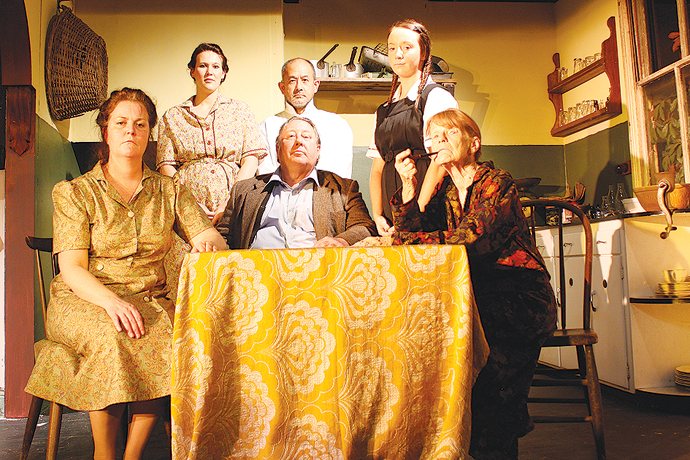 A stellar cast will bring Australian author Ruth Park's classic novel The Harp In The South to life this month in a brand new production at the Henry Lawson Theatre.
'The Harp In The South', directed by Joshua Crew, follows the story of the Darcy family in post World War II Sydney. The Darcy family, descendants of Irish immigrants, settled in the poverty-ridden slums of Sydney's Surry Hills, which provides the backdrop to this sometimes funny but always poignant story.
The play will take the audience back to a time long forgotten, where providing a daily meal was always a struggle and everyday life a challenge for survival.
Like so many during this time, they were cash poor but they had a richness money could not buy, the bond of family and friends.
Director Joshua Crew said years of planning and research went into making this production as authentic as possible.
"This play began production a little under two years ago and has been a labour of love for all involved," he said.
"Planning and preparation commenced in February last year, with extensive research into the period in which the play is set in 1946.
"Once I finally tracked down the script, I began to research the libraries, historic housing trust records and old newspapers. This was complemented by the knowledge of two lovely ladies who are part of the cast, Janet Boreman as Grandma and Elsie Murphy as Delie Stock."
The two ladies were teenagers during this period and provided Mr Crew with invaluable advice to ensure they captured, as realistically as possible, the look and feel of the era.
The production also introduces a new actor to the stage by the name of 10-year-old Joel Cannon of Werrington County, who plays the role of Brett Wilson.
The play stars Elizabeth Stramandinoli in the role of Mumma Darcy, Clarina Edwards as Rowena Darcy, Holly Prophet as Dolour Darcy and Mike Roachfort as Hugh Darcy.
'The Harp In The South' premiers tonight, Friday, November 11 at 8pm with subsequent performances throughout November. To book or for more information visit www.hltheatre.com.au.