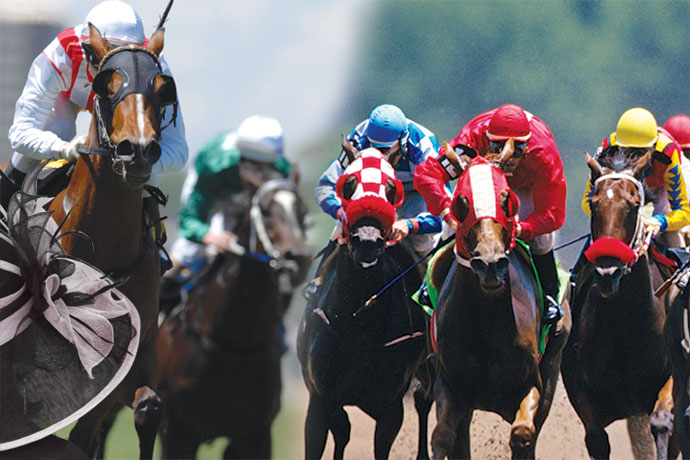 As October nears an end, Melbourne Cup fever has begun to sweep the nation as we all eagerly await Tuesday's festivities. Unfortunately getting to Flemington Racecourse does prove difficult for most of us, but rest assured there are plenty of opportunities in Penrith to enjoy the glitz, glamour and excitement of the race!
With many of Penrith's premier venues hosting their own Cup Day celebrations, FYI is proud to present a few hotspots tipped to fill the day with classy flair, fun and pizzazz in our guide to your Penrith Melbourne Cup Day!

• Kemps Creek Sporting and Bowling Club cordially invites all to its Melbourne Cup Luncheon.
For just $65 per person, you can enjoy a delicious smorgasbord lunch including beer, wine and soft drink. With live music, prizes and the race up on the big screen, this is set to be a great day – kicks off at 11.30am.
• At Penrith Gaels you can treat yourself to a tasty two-course lunch and complimentary glass of champagne in the JA room with 'Jacks in Black' for $50.
Adding to the fun, you can expect a hat parade and raffles. At the Gaels you can expect loads of fun – bookings are essential though.
• Tuesday at St Marys Band Club is geared to be an absolute gem.
For just $48 the Band Club's luncheon will treat you to a three-course meal and glass of champagne on arrival. Entertainment provided by 'The 70's Show', as well as prizes for best dressed, TAB host, lucky door prizes and the race broadcast on the big screen.
For those looking to start their day early, the Buffet Palace will serving Champagne breakfasts for $10 per person.
• Penrith Golf Club sports a stellar affair with two-person seafood platters, chef's blackboard specials, best-dressed prizes and racing broadcast on the big screens.
• Penrith RSL will be hosting a High Tea function on the day with sparkling wine, prizes for best-dressed and live entertainment by Dan Spillane – entry is $25 and doors open at 2pm.
• A lively day is in store for guests at the Peachtree Hotel with TAB opening at 9am, racing broadcast on their 3m x 2m screens and MC Michael Bennet bound to keep things lively.
Generous food platters and spacious areas are available for groups!
• Last but not least, Penrith Panthers can be expected to be a hive of activity on the day. For $75 guests can enjoy a mouth-watering three-course luncheon with a drinks package to wash it all down. The Divine Divas will provide entertainment on the day. Those reluctant to purchase tickets can simply enjoy the race atmosphere throughout the rest of the club and enjoy the day's free live entertainment, promotions, parades and prizes.

So now you know what's on, gents get ready to throw on the collar and cuffs and ladies a gorgeous frock because the champagne is set to flow in Penrith… and let's hope we all back a winner!
If you're not privileged enough to have the day off work to venture out to the many venues then don't fear, FYI is here!
We've come up with some handy hints and tips for you to still have a fun and enjoyable Melbourne Cup Day:

• Run an office sweep. In today's edition of FYI, we have included a Melbourne Cup sweep page for you to use in your office or workplace. You don't necessarily have to bet with money – how about the winner gets a paid day off or a free lunch?
• Pretend you're off to the races and dress up. Get your workmates to dress up as if they were going to the Cup. Girls dust off those fascinators and throw on a frock and guys put on your best suit and sunnies. Perhaps if you have a few office clowns get them to dress up as a jockey or one of the 24 horses competing on the day.
• How about you take the whole dressing up idea one step further with an office version of 'Fashion on the Fields'. With the guys and girls already looking posh and fancy, give them an incentive to dress up by awarding prizes to the best looking guy and girl.
• Make sure you have plenty of food on offer to go around your workplace. Types of good Cup day food would include cheese and biscuits, exotic dips, mini sandwiches, mini quiches, prawn sticks, curry puffs and baby spring rolls. Plus don't forget to wash it all down with a glass of delicious apple spritzer.
• Play some Melbourne Cup games whilst you're waiting for the race to start like 'pin the tail on the horse', match the 24 horses with their colourful jockeys or how about who can list the most Melbourne Cup winners of the last 20 years? All winners should receive a free bet or a bottle of wine to take home.
• Last but not least, don't forget to have a television on hand to catch all the race action on Channel 7 from mid-morning, with the big race at 3pm. If you can't get access to a television, radio stations will broadcast it live.