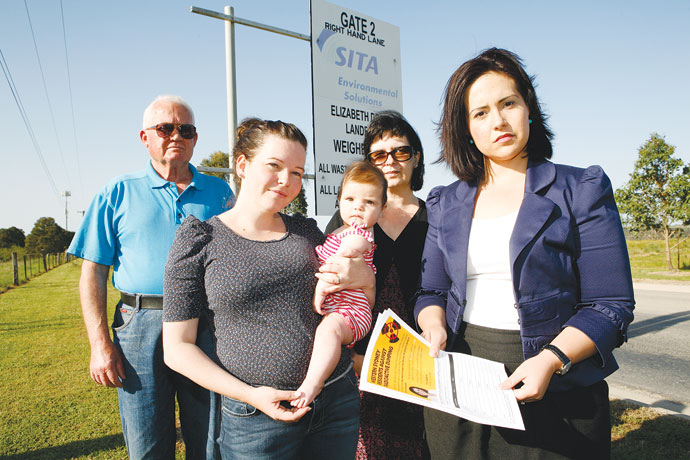 Betrayed. That's the word several locals have used to describe how they feel in relation to the potential backflip by the State Government over the Kemps Creek waste debacle.
It has been 12 months since the former Labor Government was forced to withdraw from plans to move radioactive waste from Hunters Hill to the SITA landfill at Kemps Creek as a result of community backlash.
"I thought this issue was done and dusted – I feel lied to and I'm absolutely outraged," said St Clair resident, Kelly Anderson.
"As a young mum and member of the community, I'm really concerned about dumping potentially radioactive waste here. It's an absolute betrayal."
The issue sparked controversy this week when NSW Premier, Barry O'Farrell, revealed that Kemps Creek might be the only option for the radioactive waste, despite previously labelling Labor's plans as "stupid".
"When we came into government we received advice that disposal of waste at Kemps Creek was the only option," the Premier told Parliament on Monday.
Mulgoa MP Tanya Davies, who has only been in office for some seven months, fiercely campaigned last year against making Kemps Creek "a toxic dumping ground".
While Mrs Davies said her position hadn't changed on the issue, she would not comment on the possibility that she might be forced to back down on her commitment, should Kemps Creek end up being the "only option".
"The Premier's concluding comments in question time on Monday's sitting of Parliament advised that every option will be investigated. A decision will be made and announced in the near future," she said.
Prue Guillaume, a Penrith City Councillor, contested the seat of Mulgoa against Mrs Davies. She too was against the plan and lobbied her Labor colleagues to keep waste out of Kemps Creek.
"Our local community fought hard to get the former government to rule out allowing radioactive waste at the Kemps Creek waste facility – now the new government is planning to dump it there anyway," she said.
"Western Sydney is not a toxic dumping ground – we don't want radioactive material in our community."
Ms Guillaume is collecting signatures and wants to have the issue debated in Parliament.