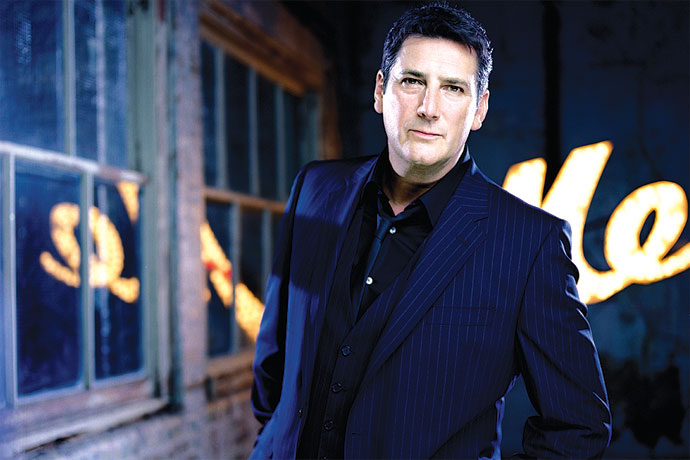 Listen, if I die tomorrow my name is mentioned in several books, I've written an autobiography, I've made albums, and if they put it all in a capsule and sent it out to space, I'm not saying I've changed the world, but I've hopefully changed a few people's lives and made a difference…
These wise words are representative of the iconic status that is Tony Hadley and the huge influence he's had on the world of music from the 1980's right up until today's digital era.
The lead singer of Spandau Ballet, who brought us such classics as 'Gold', 'True' and 'Through The Barricades', is heading back to Australia and headlining his own solo show at Penrith Panthers' EVAN Theatre on Friday, November 4.
On the night Tony will be joined on stage by none other than English pop duo Go West, famous for the hit 'The King Of Wishful Thinking', which was featured heavily throughout the 1990's biggest film, 'Pretty Woman'.
"I decided to get together with my old mates from Go West because we've worked together before and been great friends for a long time," Tony said.
"People like to see musicians and singers mix together and have a good time, so they'll be doing all their hits, I'll be doing all my hits, plus maybe a song or two from my forthcoming album."
Tony says not only will fans be sent back to the 80's when he performs all his Spandau Ballet material but he will also be rocking out to some of his own modern day favourites as well.
"I'm a big fan of bands like the Kaiser Chiefs and The Killers, so there'll be some interesting covers in there as well. All-in-all it's going to be a great, fun show," he said.
"I always think of myself as firstly a singer, secondly a songwriter and if I find a great song I love I have to sink my teeth into it."
Joining Tony on his Australian tour will be fellow Spandau Ballet member, drummer John Keeble. John played a very significant role in reuniting Spandau Ballet for their reunion tour that took in Australia in 2009 and 2010. The tour followed a long running dispute between the band members over songwriting royalties that lasted years.
"We (Spandau Ballet) finally got ourselves together in October 2009 and June 2010 and we managed to bury all the bad feeling that was between us," Tony said.
"There were times before that when we weren't actually speaking, so John (Keeble) was really instrumental in getting the whole thing together.
"We spoke about it many times since and we're all glad we finally managed as grown men to stop being such a****les to be honest… burying the hatchet and getting ourselves together."
Spandau Ballet formed in 1979 before parting ways in 1990. Initially inspired by New Romantic fashion, a youth fashion and music movement in the UK in the early 80's, their music has featured a mixture of funk, jazz, soul and 'synthpop'.
For many years there was plenty of mystery surrounding where the band got the name 'Spandau Ballet' from. Tony says Spandau Ballet was actually named after a prison that held Nazi war criminals in Germany.
"Rob Elms, a journalist and radio DJ in London, went over to Germany in 1978," he said.
"Rob knew we didn't have a name for our band yet, so one day he was having a leak in a bathroom in a club when he saw graffiti on the wall that read 'Spandau Ballet' and he thought 'Well that sounds really different, I'll have to let the boys know'.
"Anyway we since found out there's an area in Berlin called Spandau where Rudolf Hess, a Nazi war criminal, was kept. He was kept in the region of Spandau prison, so that's where it comes from."
As the lead singer of Spandau Ballet, Tony has over the years earned himself the accolade of being one of pop music's greatest vocalists. In addition to all the band's songs, many will remember his prominent vocal contribution to the Band Aid UK charity single 'Do They Know It's Christmas' and subsequent 1985 London appearance at Live Aid.
"I think Live Aid would have to be the standout show of my career, it kind of has to be because it was moment in history that had never happened before," Tony said.
"This was a charity event that was broadcast around the world with technology that was Neanderthal compared to what we've got now and it was just amazing.
"People like Prince Charles and Princess Diana were there, as well as my heroes like Paul McCartney and David Bowie. It was a fantastic day and went far too quick."
This year really has been the year for the revival of many bands of the 80's and 90's. Over the past few months we've seen Aussie bands like Icehouse and Boom Crash Opera come to town, as well as solo artists like Taylor Dayne, James Reyne and Daryl Braithwaite turning the clocks back. Tony says the 80's movement is coming back into fashion after a long time being considered daggy and uncool.
"I'll be really honest but there was a time when if you spoke about the 80's people would screw up their face and be like 'Aw I'm not sure about that mate', but after time goes by people get back into the music and say 'You know what that's pretty good, Tony Hadley does have a great voice and I'd love to see him live'," he said.