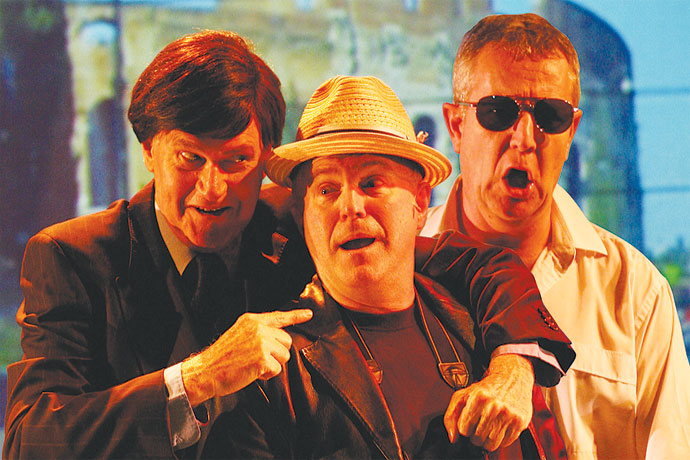 Comedy returns to the Q Theatre next week in the shape of the masters of Australian political satire, the hilarious Wharf Revue.
Prepare yourself for a fabulous night under the canvas of variety, song and gratuitous nudity (nudity not available in mainland Australia and/or Tasmania), in their all-new show 'Debt Defying Acts'!
The outrageous Jonathan Biggins, Amanda Bishop, Drew Forsythe and Phillip Scott serve up their special blend of side-splitting sketches and musical hilarity, jam-packed full of its usual trademark satire of contemporary politics and popular culture.
You'll just about die of laughter watching: Julia the Flame Haired Temptress and Queen of the High Wire Balancing Act; How the Outer West Was Won! as Wild 'Barry' O'Farrell Gets his Gun; The Tragedy of King Rupert, Hacked down in his Prime; and The Amazing Greens – Australia's Least Amusing Clowns!
Not to mention almost wetting yourself laughing at: Rudd Never Dies – The Incredible Re-Appearing Man; Tony Abbott, the evil Doctor No with his Invisible Mandate; Assange and Robertson – Novelty Whistle Blowers; The Exotic Flowers of the Arabian Spring… they'll cause an uprising in your dishdasha!; And re-introducing the Faded Rose of Yesteryear Miss Kittie Keneally.
Reviews over the past few years have been very kind towards the Sydney Theatre Company's Wharf Revue with one critic from The Australian describing their show as: 'a glorious mixture of the witty, the savage and the inane, as we have come to expect from this great team… rude, offensive, unfair, vicious and deliciously funny.'
The Australian political scene can at times be somewhat of a joke and the amazing cast from The Wharf Revue will put Australia's crazy political antics on stage for everyone to laugh at in this strictly short run at the Q Theatre in Penrith.
The Wharf Revue is always the hottest ticket in town and this show itself at times is too hot to handle!
Check out 'Debt Defying Acts!' with performances on Thursday, October 27 and Friday, October 28 at 8pm, followed by Saturday, October 29 shows at 2pm and 8pm.
Tickets are $47 for adults and $42 for concessions.
To book or for more information call 4723 7600 or visit www.qtheatre.com.au.