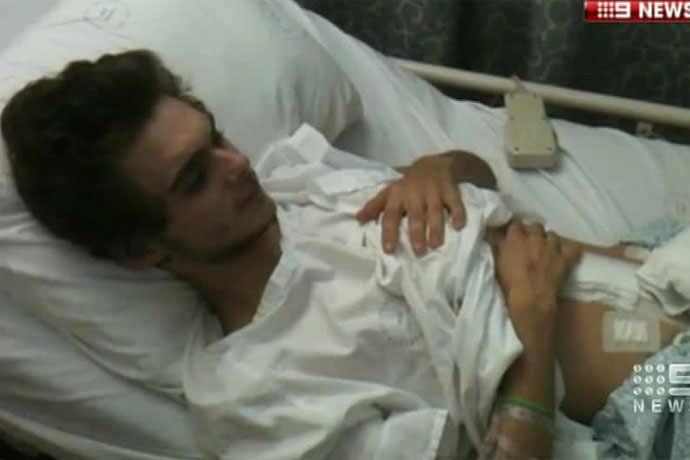 Police have made a major breakthrough in the investigation into a home invasion that ultimately led to the shooting of a teenager at Colyton.
About 5.45pm yesterday, officers attached to Strike Force Gurney attended a house in Tregear.

A 21-year-old man was arrested and taken to Mt Druitt Police Station.

He was charged with aggravated break and enter and commit serious indictable offence – in company and outstanding warrants.

He has been refused bail and is due to appear at Mt Druitt Local Court today.
EARLIER:
Justin McMaster was trying to protect his little sister, Kayla, from intruders who had allegedly threatened to rape her.
Two St Marys police officers were responding to a call that a female was being threatened with a knife.
These two very different stories converged in an instant when an officer discharged his gun and shot 19-year-old Justin McMaster outside his home in Colyton.
It is believed that around 1am on Monday, September 26, three men broke into the residence on Holmes Street but fled before the Police officers arrived, which may have added to the adrenaline-fuelled confusion that led to the shooting of the teenager.
Mr McMaster is recovering from surgery at Westmead Hospital and spoke to Nine News about the moment he was shot.
"At first I couldn't feel it, then I felt really warm in a certain spot and then I started to get cold," he told Nine.
"My bowel got split into four pieces and my bladder into two, because the bullet exploded inside me."
The day after the incident, the police officers involved went back to the scene and re-enacted the night's events.
Police from the St Marys Local Area Command have established Strike Force Gurney to examine the circumstances surrounding the family's claim of a break-in by three armed men – including the assault of Justin's mother, Gina Karakizos and her partner, Paul Sciberras.
Meanwhile, an internal investigation into the police officers' actions continues.
The investigation will examine claims that Ms Karakizos yelled 'he's my son, he's my son', moments before the gun was discharged and whether Justin was carrying a metal curtain rod or knife as he approached police.
The family is now considering legal action and told the Sydney Morning Herald that proceedings to date had been in favour of the police with no support being offered to the family.
"They're saving their own arses. He [the police officer] gets counselling," sister Kayla said.