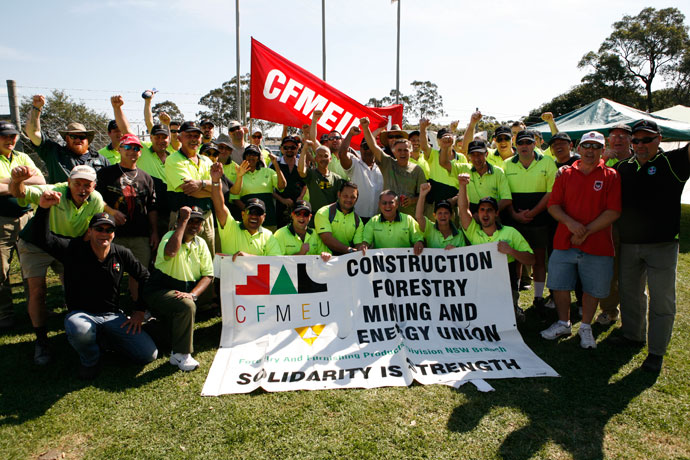 Negotiations between Construction Forestry Mining and Energy Union members and Jeld-Wen owned, Corinthian Doors, have come to a standstill with workers striking today at their St Marys factory and five other sites across the country.
The dispute is over wages and conditions that are negotiated every three years.
"We have had six or seven meetings where good healthy negotiation took place but there are a couple of issues neither side is willing to budge on. They are offering a wage increase of 2.5 per cent but when CPI is 3.6 per cent we end up 1.1 per cent short," explained Phil Davies, who has been negotiating on behalf of Corinthian Doors workers for 18 years.
"They have wanted to take away a range of working conditions but we have fought for them and maintained them, but now Jeld-Wen want to take away our attendance bonus, paid at the end of the year to people who don't take sick leave.
"It is worth anywhere between $500 and $1500 and the workers often depend on this to pay off their mortgages or use it as top-up money over Christmas time."
In the eyes of employee of 15 years, Gillian Lowe, the company has got its priorities wrong.
"It used to be a real family company but since Jeld-Wen took over people who have been working here for a long time have been treated badly. Asking for more than a 2.5 per cent wage increase is nothing to them – they can afford to sponsor St Kilda footy and James Courtney but not pay their own employees?"
The strike will continue tomorrow but rather than return to work on Thursday, Jeld-Wen has given the striking workers notice of a lockout.
According to Brendan Brace, dayshift delegate, the union members gave the company 72 hours notice of their 48-hour strike on Thursday and not a day later, the company informed employees that there would be a three-day lockout commencing the day after the strikes.
Tomorrow, last minute negotiations will take place to see if the situation can be resolved before the lockout is enforced, but workers are not optimistic about the outcomes – instead urging other workers at the St Marys factory to take the day off.
Jeld-Wen issued a statement saying that, "In response to this action Corinthian Doors and William Russell Doors will lock out those employees who have elected to participate in this strike from Thursday September 8 through to Monday, September 12, inclusive."
Jeld-Wen Australia's Senior Vice President of International Operations, Nigel Woolley said the communication lines are still open.
"Jeld-Wen Australia remains strongly committed to continue negotiating in good faith and is keen to conclude a new agreement quickly in the best long term interests of both the business and all its employees."