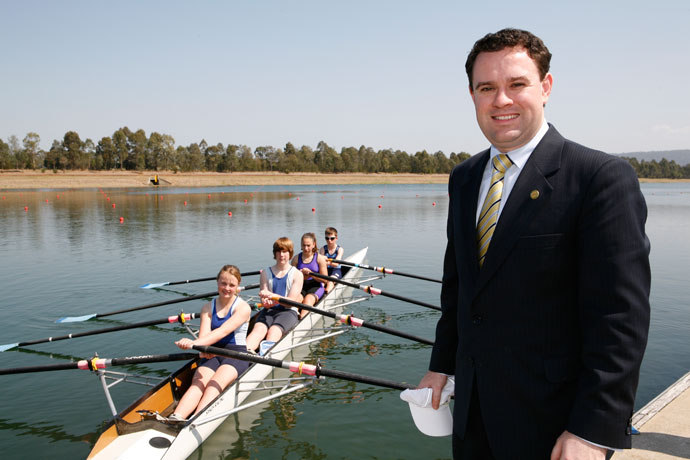 Penrith will see an influx of world renowned rowers in March 2013 when it hosts the prestigious World Rowing Cup, but you will be hard-pressed to find a group more excited than the local Nepean Rowing Club.
Already, the club has fostered a handful of young rowers who have become world champions or Commonwealth Game medallists, but Nepean captain, Neil Holmes, hopes this brush with fame will inspire his squad of budding athletes.
"Sometimes the kids tend to forget the Sydney International Regatta Centre course has had some amazing athletes row on," Mr Holmes said.
"But it will be great for them when they get to see world rowers out there on the same course they race on."
While the State Government announced that Penrith had secured the opening round of the World Rowing Cup for 2013-14 less than a fortnight ago, Premier Barry O'Farrell visited the Regatta Centre on Monday to announce a brand new international rowing regatta.
"It will be the first time the World Cup opening round has been held in the southern hemisphere… and for the first time, key Australian rowing events will be brought together to mark a week-long celebration of the sport," Mr O'Farrell said.
The event will include the King and Queen's Cup Regatta, Australian Open Rowing Championships and Australian Schools Rowing Championships.
"This confirms Penrith as the home of elite rowing in Australia," Mr O'Farrell said.
The Nepean Rowing Club has about 50 rowers, but Mr Holmes said that's likely to increase now that world-class events are being held in our backyard.
"Although we have the Regatta Centre here, a lot of people don't think that rowing is a sport they can do. This kind of event will show people that anyone can get involved," he said.
"Already there is a growing interest in the sport and we've had plenty of new kids showing interest in our learn-to-row programs."