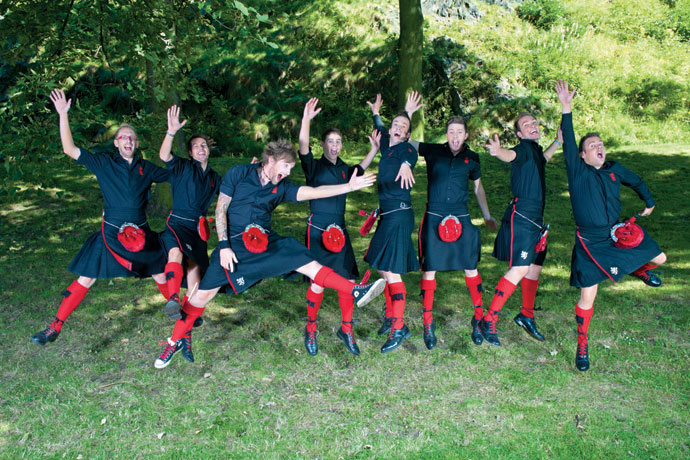 This is truly a show like no other! Bagpipes with attitude.
Drums with a Scottish accent. A blazing rock band and a show so hot it carries its own health warning. The Red Hot Chilli Pipers have been rocking the world from New York to Beijing and now Penrith as they prepare to blow the crowd away in this unique and fiery show.
The Red Hot Chilli Pipers claim to fame came in 2007 after they took home the top prize in a UK primetime TV talent show called 'When Will I Be Famous'. Since that momentous occasion the Red Hot Chilli Pipers haven't stopped for a breath, other than to inflate their bagpipes.
Taking their signature 'Bagrock' sound to the masses, The Chillis have fast become a global phenomenon, rocking the Big Apple, Beijing and Berlin in recent years.
The Chillis have performed to hundreds of thousands of fans all over the world. They have been joined on stage by Hollywood heartthrob Ewan McGregor, played for music royalty in former Beatle Sir Paul McCartney, opened the Eurovision Dance Contest in front of a TV audience of millions and were one of the first ever Western bands to perform in Saudi Arabia.
The band also have three albums under their kilt, I mean belt, with their latest offering called 'Music For The Kilted Generation'. In 2009 the Chillis released a live album and DVD titled 'BLAST Live', which went three times platinum in Scotland.
The Red Hot Chilli Pipers sound is a fusion of traditional pipe tunes and contemporary albums. Tracks the band are best at performing are 'Clocks' by Coldplay, 'Chasing Cars' by Snow Patrol, 'Let Me Entertain You' by Robbie Williams, 'We Will Rock You' by Queen, as well as a piping hot rendition of 'Amazing Grace'.
The Red Hot Chilli Pipers are even worshiped by other big time acts in the music industry. Hugely successful Scottish act Biffy Clyro said: "The Red Hot Chilli Pipers' twist on our national instrument is a huge amount of fun. They have taken bagpipes to a whole new audience and given them a rock 'n' roll edge which definitely earns them the Biffy seal of approval."
The Red Hot Chilli Pipers will set the EVAN Theatre stage on fire when they hit Penrith Panthers on Monday, October 17 at 8pm. Tickets are $47.
To book or for more information call 1800 061 991 or visit www.penrith.panthers.com.au.