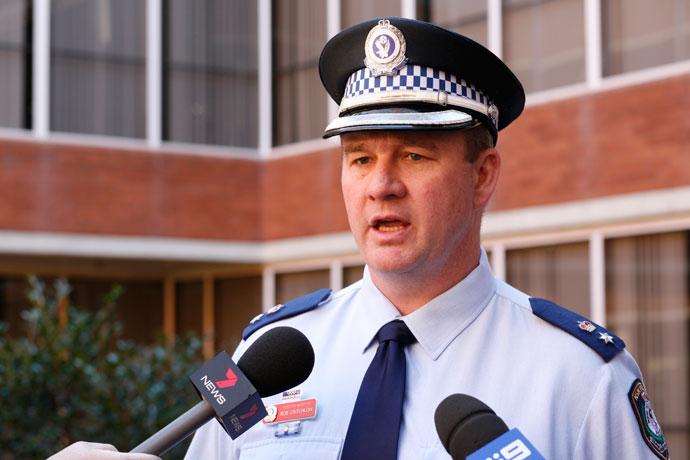 Police have commended a mother and father for coming to the rescue of their 20-year-old daughter and 4-year-old granddaughter after a man broke into the daughter's flat and assaulted her.
The daughter awoke at 4.30am to hear suspicious noises coming from the lounge room of her flat in Macquarie Road, Penrith.
After alerting her parents via a text message, the woman went to see what the noises were and confronted a man who said he was 'lost'.
As he turned to leave the man then assaulted the woman.
During the scuffle the parents of the woman arrived and confronted the offender, pinning him on the ground with their own body weight until police arrived at the scene.
The father suffered several lacerations and stab wounds, including damage to his lung, but is currently receiving treatment at Nepean Hospital and will make a full recovery.
The granddaughter was not injured during the ordeal.
Acting Superintendent, Rob Critchlow, said that it was an unbelievable display of heroism.
"The parents of the women displayed great courage – doing what any parent would do in this situation – they should be commended for their bravery," he said.
Mr Critchlow said police believe the man broke into the unit by removing the fly screen from a bathroom window.
"Police canvassed the area and residents have been very helpful. We have unconfirmed reports that the offender may have been in the area earlier and engaged in conversation with a neighbour along the lines of 'you should not be here' but later returned and committed the assault.
"The offender is known to police… but a motive has not been established and is the subject of ongoing investigations."
Police are also investigating whether the assault is related to an incident the previous day at Glenmore Park.
At about 3pm on Tuesday, a balaclava-clad man confronted a woman inside her home on Warringah Crescent at Glenmore Park.
The man assaulted the woman, aged in her early 20s, before leaving the scene. He was seen on foot in the vicinity of nearby Telara Avenue. The victim contacted emergency services and she was taken to Nepean Hospital with a number of injuries. Her condition is not life-threatening. Polair was called to assist with the search for the man, described as having a muscular build, 170cm to 180cm tall, wearing dark clothing and white runners.
"We are looking into a connection between the two incidents but we have no information yet to suggest the two are linked," Acting Superintendent Critchlow said.
Anyone who witnessed any suspicious activity related to either incident should contact Penrith Police though Crime Stoppers on 1800 333 00.