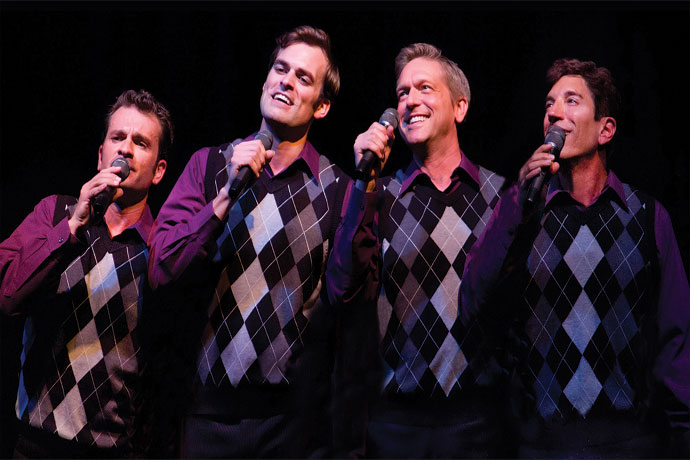 Direct from Las Vegas and for the first time ever in Australia, a true musical tribute to Frankie Valli and the Four Seasons will be landing in town this October that is sure to send the crowd berserk, just like the real Jersey Boys did some 40 years ago.
'Oh What A Night' is a sensational and highly-successful production written by Independent Motown producer and creative consultant George Solomon and award-winning producer/director Michael Chapman with choreography by Paul Holmquist.
George Solomon, who also stars in the show, says Australian audiences can expect a "really fun evening" that will have onlookers dancing in the aisles.
"This is one of the best all-time feel good shows I have ever been involved with because people just go crazy for it," George said.
"You can't go wrong with the music of Frankie Valli and the Four Seasons because when people are watching the show they can't believe how many hits they have."
Recently, the successful 'Jersey Boys' production, that also looks at the times of Frankie Valli and the Four Seasons, took Australia by storm, making it one of the biggest musicals to hit our shores in recent years. George says 'Oh What A Night' will deliver a much different and more musically-driven experience.
"Firstly, we are not playing characters; we are not playing the 'actual' Four Seasons. Instead we are being ourselves up on stage performing all their music," he said.
"Also we do several numbers that aren't included in the 'Jersey Boys' shows. That show is a scripted-biography and I think because of their time constraints there maybe isn't enough time for them to do every song.
"We have the luxury of doing the full songs and we make sure we do every one of Frankie Valli's top ten hits, as well as the Four Seasons songs too."
Frankie Valli and the Four Seasons were at their peak in the mid-1960s. Their songs are anthems of that generation and their infectious lyrics have a tendency to always get stuck in our heads.
"In America, Diana Ross and the Supremes, Frankie Valli and the Four Seasons and The Beach Boys were three groups that really dominated the American charts in the era and today you can listen to any of those songs from any of those groups and you can't help but smile when you hear them," George said.
'Sherry', 'Big Girls Don't Cry', 'Walk Like A Man', 'Can't Take My Eyes Off You' and the title track 'Oh What A Night' are just a handful of the many hits audiences will hear from the dynamic songbook of the boys from Jersey.
George says his all-time favourite song to perform is Frankie Valli's 'Grease' which was also featured in the hit movie of the same name.
"'Grease' for me is my favourite because I get to jump around the audience and play with the ladies," he said.
"I love watching their reaction and it almost turns into a little bit of a Chippendales show for three minutes.
"The audience also goes crazy when we do 'Grease' because there is lots of audience participation. We are not afraid to come down into the audience during the show and play with the people.
"The women especially get all riled up when the guys come down during the show. There is definitely a lot of laughs."
Everyone has their own special story of how they got into certain types of music and bands and George was no different in how he fell in love with the music of Frankie Valli and the Four Seasons.
"I'm from a family of seven children and my older sister was a Frankie Valli freak, so the music would be playing in the house all the time," he said.
"There was a little girl who lived down the block and her name was Sherry. Every time I would hear the song 'Sherry' I'd think about the cute little girl that lived down the street and we were the same age at the time.
"So I always wanted to sing 'Sherry baby' every time I saw her. So it's kind of interesting that I'm on stage all these years later still singing that song."
When 'Oh What A Night' arrives at the Blacktown Workers Club on October 1, audiences will be treated to the same cast of four that perform regularly at the Riveria Casino in Las Vegas and Trump Plaza in Atlantic City.
"When we cast the gentlemen in Las Vegas everybody was so good, the vocalists were so incredible, and we thought 'We can't just have one guy singing all the songs," George said.
"Each gentleman we cast was so good that now everybody on stage takes turns singing the lead.
"There is not a single back-up singer on the show because we all sing the lead at some point.
"It's great concept because everyone's amazing voices are showcased throughout the night."
This exhilarating musical revue will thrill audiences with its great choreography, boundless energy, humour and, of course, instantly recognisable classic pop songs that make this show indeed 'Oh What A Night'.
'Oh What A Night' will dazzle audiences inside the Diamond Showroom of the Blacktown Workers Club on Saturday, October 1 at 8pm.
To book or for more information call 9830 0600.