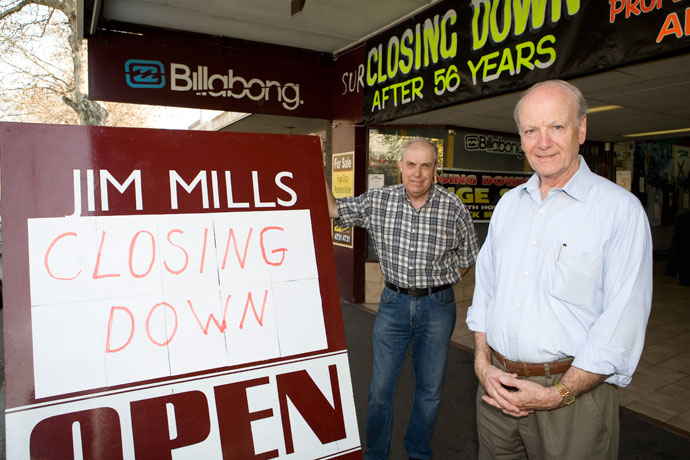 After 56 years St Marys clothing store, Jim Mills Menswear and Swimwear, is closing down.
Paul Mills, who is the son of original storeowner, Jim Mills, has been working in his father's store since he was four years of age and has mixed feelings for what is truly the end of an era.
"I remember my kitchen was right where the middle of the store is now located," he said.
Mr Mills grew up in a caravan behind the shop front, helping his dad when he would sell items door-to-door and then in the store every school holidays since his eighth birthday.
"When I finished school I went into business with my father and a couple of years later, John Smythe, [current owner], invested in the store and expanded its supply of brand-name swimwear like Billabong."
Originally there was vacant land either side of the store located on Queen Street but over the years St Marys town centre has changed.
Mr Smythe, who has been owner of the store for 35 years, said the street has really improved in the time he has been working at Jim Mills.
"Particularly in the last ten years St Marys has really stepped up as a place to shop – ever since the St Marys Town Centre management committee was established there are less empty shop fronts – much better than it used to be."
Mr Smythe decided to close the store not because of retail sector difficulties like most would suspect but rather so that he and Mr Mills can retire.
'We are hoping that someone will buy the business and continue to operate it as a menswear store but there are also opportunities for a medical centre or retail centre to buy the building."