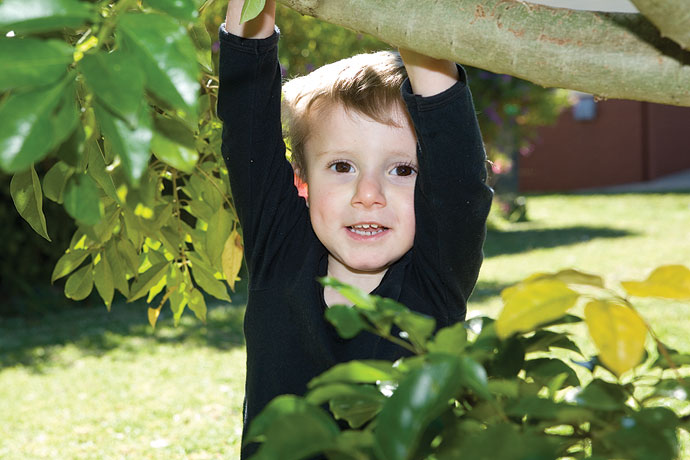 For her toast on New Year's Eve in 2010, Jodie De Sousa simply wished for a year in which her son, Noah, would not have to undergo open-heart surgery.
Now it has almost become a reality with Noah just weeks away from reaching his record, with his last major surgery in October last year.
Noah was born with two different types of heart conditions, a fact that his mum had to deal with during the emotional roller coaster of pregnancy.
"The 18 week scan showed that he had a heart condition and although the doctors wanted to perform chromosome testing my husband and I decided against it because there was a risk of miscarriage," Mrs De Sousa said.
"It was the most agonising time of my life, not knowing what the exact condition Noah had until he was born."
Noah was diagnosed with Velo Cardio Facial Syndrome, which led to him having pulmonary artesia, where the valve that regulates blood flow is missing. He also had two holes in his heart.
"He had operations when he was nine months and 15 months, and then most recently in October last year when they had to close the bigger of the two holes in his heart," Mrs De Sousa said.
Fortunately, the surgery was successful.
"The doctors told me I would see a remarkable change in him. I never realised how blue he was until he had the surgery – he immediately had beautiful rosy pink lips and his nails, which were originally purple, became bright pink."
Doctors say Noah will need one, but possibly two, more surgeries to make sure his heart does not fail.
Whilst Noah's condition sounds like a rare and unfamiliar defect, more than 2,000 babies are born every year in Australia with heart problems.
Heart defects are the main cause of death amongst infants, including cancer or sudden infant death syndrome.
"People do not realise how common heart babies are because they only have a scar on their chests, unlike children suffering from cancer for example, where the effects are more obvious," Mrs De Sousa said.
"It is such a shame though because the government does not give any funding to Heart Kids, the most amazing charity that has given my family so much support."
Mrs De Sousa volunteers with the charity in her spare time because of the work Heart Kids does to support families.
"Heart Kids showed me that it is actually such a common occurrence, it just isn't known to people unless you have gone through it yourself," she said.