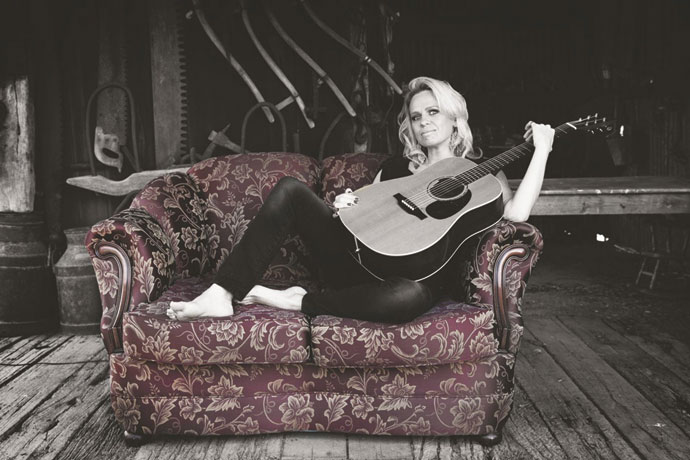 In her brand new album – released today – Beccy Cole has truly put her heart and soul on the line. 'Songs & Pictures' showcases the real woman, artist and for the first time ever, the exceptional songwriter she is.
"For me, this album is something I've always wanted to do as a singer/songwriter," Beccy said.
"I wrote all the songs on the record and had a really awesome time getting the tracks together. It's a very honest approach to the songwriting and I'm really happy how it's turned out."
For many artists writing a new record can be a rollercoaster experience of emotions – sometimes the lyrics can come easy, other times you have to dig deep inside. For Beccy though, the album is honest, vulnerable and from the heart, much like herself.
"'Songs & Pictures' is a record I've always wanted to make and as far as the subject matter goes, I just drew on personal experiences and honest heart on the sleeve kind of stuff… so in that respect it was an easy album to write," Beccy said.
"I also had some staunch ideas on how I wanted to record the album, too. I really wanted to make this album with my own band, which I've never actually done before, so it's thrilling for me to be able to do it my way.
"I think until now I've been fairly lazy. I love songwriting but I always thought I had to include some tracks that I didn't write on my albums in case people thought mine weren't good enough. But once you've got faith in yourself there is no stopping the situation."
With the album available from today, it will be an anxious wait for Beccy to see how her latest offering performs on the national ARIA album chart, and if her long-time fans will also feel the same about the record just like she does.
"I probably will take it to heart if people don't like it but that's just the ego of the performer. You don't know until you give it a go," Beccy said.
"I'm really confident that I've done everything I can possibly do to create the best album. I'm happy with it, so I don't think I'll get offended if I get a bad review because if I can't please them [critics] with this album then I'm never going to please them.
"As you get older you get a mature attitude and you just say it is what it is because you can't change people's opinion."
Many artists draw on a range of influences to inspire them in songwriting, performing and just living life in general.
For Beccy, it's the biggest female country music star of all-time, Dolly Parton.
"I grew up listening to Dolly Parton and I still love her," she said.
"I recently bought $3,500 worth of tickets to go see her when she tours here in November. I just think she's fantastic and I actually mention her in a few of my songs. That for me is drawing on 'Dollyworld'."
Beccy says her love for the big-busted 'Queen of Country Music' came when she met her as a young teenager in the late 80's.
"I always wanted to be a country singer after singing in my mum's band, but meeting Dolly certainly sealed the deal for me," she said.
"I met her [Dolly] in 1987 when I was a 13-year-old and got to go back-stage. It was a big thrill for lots of reasons.
"It was obviously great meeting my idol but every single birthday candle I'd ever blown out I wished 'I wanna meet Dolly, I wanna meet Dolly'.
"When you're 13 and a dream comes true like that you just won't ever believe that they don't come true. So that made me a real pain in the ass and it made me determined as I would never take 'no' for an answer."
Beccy put that determination to good use. Throughout her career she has racked up an impressive seven Golden Guitar awards, three Gold Records and two 'Entertainer of the Year' awards, as well as a legion of loyal fans.
Beccy features plenty of big names on her latest album including producer and multi-instrumentalist Shane Nicholson, her best friend Kasey Chambers and even her ex-husband, fiddle player Mick Albeck, makes an appearance.
"Mick and I are still good buddies," Beccy said.
"He's the funniest man I know and makes me laugh a lot. I think if you've got humour you can get through anything.
"Mick's a very talented guy and I love the fact I've got him playing on my record, especially because he plays on a song about our son Ricky and I'm very proud of that."
'Songs & Pictures' will cement the Australian country music star as an honest and revealing songwriter only complementing her reputation of all-round entertainer.
Through her words and music Beccy Cole presents and exposes her vulnerabilities and personal stories by letting you see through her eyes and feel the moments that have shaped her life.
Fans can catch the hugely talented Beccy Cole when she performs songs from her new album tomorrow, Saturday, October 1 at Coachman's Park in St Marys at 12.30pm.
Following her performance, Beccy will be appearing at St Marys Sound Centre in Queen Street to meet fans and sign copies of her album 'Songs & Pictures'.
To keep up to date with Beccy Cole visit her website www.beccycole.com.