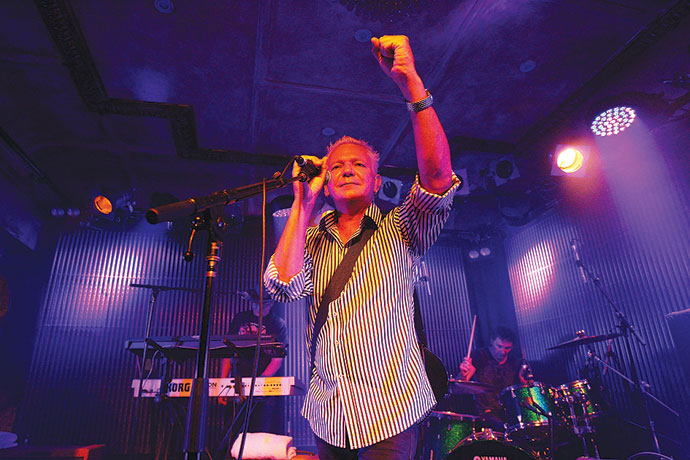 It doesn't happen often but one of Australia's most internationally successful and iconic bands is hitting the road once again and will be making a rare pit stop in our own backyard.
The band is Icehouse and is headed by one of this country's most well-known and respected frontmen in Iva Davies. When they perform at Penrith Panthers' EVAN Theatre on September 29, it will be the first time in 15 years that the band has played at a western Sydney venue.
It was only three years ago that Iva said Icehouse had no plans to ever go back on the road and tour like they used to. But on the back of their hugely successful 'White Heat: 30 Hits' album released last month, Iva thought it was a perfect time for the Icehouse men to show their colours again.
"In a sense, these shows are still just one-off gigs and what we're focused on at the moment is the upcoming summer festivals we are performing around the country like Homebake in Sydney," Iva said.
"These are select shows and I think that's the way we'll operate for a while. We are not a classic touring band but it's actually quite fun to play every now and then because it's an excuse to get together after a long time."
Icehouse originally formed under the band name 'Flowers' back in 1977 before adopting the name 'Icehouse' in 1981, after an old and cold flat Iva used to live in.
Icehouse's best known hits on the Aussie charts were 'Hey Little Girl', 'Crazy', 'Electric Blue', 'My Obsession' and of course every Australian's favourite 'Great Southern Land', which was written by Iva in his home in Leichhardt overlooking a busy bus stop.
"It was the most unlikely place to write a song," Iva said.
"I just came back from overseas and bought a house in Caxton Street, Leichhardt, which was quite a busy street but in this particular house I set up the front room with my tape recorder, synthesises and guitars and there happened to be an incredibly noisy bus stop directly outside. The house was also under the international flight path and the planes came over very low. I had to write the whole album with a set of headphones on because I couldn't hear."
Iva credits 'Great Southern Land' as his most prized work and the track is still charting on the ARIA singles chart to this day (currently #66) and was the most popular song according to listeners of Triple M in 2007.
Towards the end of last month, Icehouse released their long awaited greatest hits album titled 'White Heat: 30 Hits', which is currently going gang busters in record stores across the country as well as on the Australian charts, debuting at number five last week.
Iva says the success of the album and the longevity of his songs, some written more than 30 years ago, have surprised him.
"It constantly surprises me, it's been surprising me for decades because if you can imagine the time I was writing the songs the focus was very immediate," Iva said.
"The focus was a new album and lifespan of that album was a year and a half and I don't think I ever thought very much further ahead than that.
"So for me operating that way for 17 years, at no time did I ever think about how long these songs were going to be around for."
Another Icehouse classic was the number one smash 'Electric Blue', off the internationally best-selling, critically acclaimed and 1988 ARIA Album of the Year, 'Man Of Colours'.
Co-written by Iva and John Oates of Hall & Oates fame, the 'Electric Blue' single was originally released on a blue 7-inch vinyl record, which was quite unique for its time.
Come almost 25 years later and Icehouse and Hall & Oates will be reuniting in early 2012 for a series of concerts around the country. Iva said the last time he was with fellow 'Electric Blue' songwriter John Oates was on stage at New York's Madison Square Garden during an American tour.
"It's been a very long time since I saw him last," he said. "I too am actually really looking forward to seeing Hall & Oates because they are quality songwriters and I'll be standing in the wings every night watching on."
Icehouse are constant professionals and rate every gig very highly, but it was their 1988 Australian Bicentennial performance in front of Prince Charles and Princess Diana that really stands at the top of Iva's list.
"There were a lot of noble gigs but the Bicentennial year was pretty spectacular and the Royal Command performance we did for Charles and Diana was pretty outstanding partly from the point of view that it was being televised to three billion people," he said.
When Icehouse brings their huge catalogue of hits to the EVAN Theatre stage on September 29, fans can expect a vast playlist of songs from each of their hit albums and they too have the chance to put their two cents in on what songs they want played.
"It's very interesting these days to have a Facebook page because you get people who comment on their favourite songs and what they're looking forward to hearing, so certainly that has set into discussion of what we'll end up playing," Iva said.
This is a show not to be missed and a rare opportunity.
Icehouse will be performing at Penrith Panthers' EVAN Theatre on Thursday, September 29 at 7pm. Tickets are $56.50 and can be booked by calling Panthers on 1800 061 991.