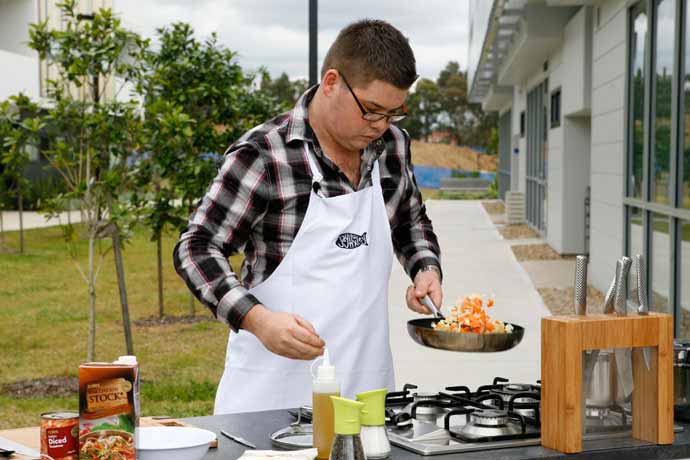 Masterchef contestant Jay Huxley told the Weekender earlier this year that he was going to give back to the community he grew up in.
Just months on and the talented chef has stayed true to his word. He returned to Penrith on Tuesday to teach local university students about cooking 'Low Budget Healthy Meals'.
The free two-hour cooking workshop at the University of Western Sydney, Kingwood campus was a huge success with students enjoying seeing the Masterchef in action.
"It is really great to see him up close working in the kitchen and to get some pointers off someone not too much older than us who is doing so well," said one student.
Raised in Penrith, Jay was independent from a young age. He often cooked for his parents and brother and in his early teens enjoyed fishing trips away. And while he replicated recipes from his mum – who sadly died from illness eight years ago – as a teenager, the lure of a career in fishing proved stronger than food.
"I left school when I was 14 to pursue a career in fishing tackle retail," he said.
"My whole life at that stage was absolutely engrossed in fishing and I followed that for about 10 years where I managed two of Sydney's biggest fishing tackle stores.
"I got a mortgage and other commitments and I guess I missed the boat in terms of an apprenticeship. I moved into selling cars about six years ago and my paypacket trebled which made it even harder to head into an apprenticeship."