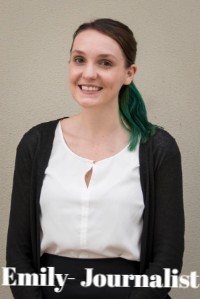 What's your name?
Emily
What's your role at The Western Weekender?
I'm a journalist.
Favourite restaurant in Penrith?
I'm a burger fanatic and currently High Street Social has my heart.
Favourite place to have a coffee in Penrith?
Rogue Valley Roasters in the Plaza, the staff are always on the ball and have my order memorised.
Favourite place to have a drink in Penrith?
I can't go past the old favourite of the Red Cow.
What do you love most about Penrith?
The people, without a single doubt.
Looking into your crystal ball, what do you see in Penrith's future?  
A community that sticks together, despite the changing face of Sydney all around us.
If you could change one thing in Penrith, what would it be? 
A little bit of consistency in the weather would be nice. If feels like we're going from one extreme to the next… how hard is it to change the climate? 😉
Favourite story?
A tough one – there have been some real contenders that show the power of community spirit. What takes the cake for me was a recent interview with Ed Kolen, an energetic man all the way in Papua New Guinea. He is easily one of Penrith Panthers' biggest fans. He told me that the fans out here he as met online are like family to him, despite living almost 3,000km away. It was amazing to see just how far reaching the local pride and community spirit is. You can read the story here.