Education
Address:
11/12 Tindale St Penrith
2750
Short Business Description:
Penrith #1 HSC Tutoring Specialists

We give our students the unfair advantage in Biology, Physics, Chemistry, Math (Extension 2 & 1, Advanced and Standard) and English (Extension 1, Advanced and Standard).

We also offer head start courses in English and Math for Year 9 and 10.
Long Business Description:
Finding a great high school tutor in the Penrith area that will take you to the top of your school has never been easier.
We make performing for the HSC easy through our comprehensive resources and inspiring teachers. Apart from years of teaching experience, our teaching team come from a diverse professional background from doctors at Nepean hospital to engineers at Sydney Water. Students love coming to learn with us because they see the applications, whether it be math english or science, extending beyond the textbooks and the classroom. But don't take our word for it, here are just a few words from our students and parents:
"YGA provides a great environment for a fantastic learning experience with inspirational teachers that always have their students' best interests at heart. YGA has boosted my confidence in my subjects at school, as I always stayed a step ahead in school!"
– Nickolas | Student | Penrith Selective High School
"The guys at YGA are insanely welcoming and supportive. They are knowledgeable in all of the subjects that they offer and are extremely helpful for any area. My marks went up noticeably in the time that I was with them. 10/10 would recommend"
– Rachel | Student | Penrith Christian High School
"My daughter is a great student but she struggled with standard maths during HSC. Alan taught her and the results quickly showed in her marks. We are extremely grateful for his patience and teaching ability. I definitely recommend him for tutoring – we always recommend him to our friends and family. P.S. She got the ATAR she needed to get into law. I'm so proud!"
– Mrs Cooper | Parent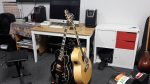 Address:
Unit 16, 9-11 Abel St Jamisontown