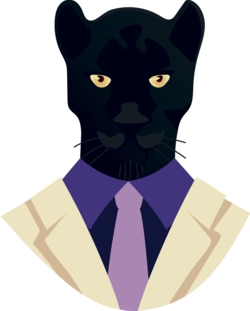 End of beer hill, changes to Western Stand
More detail has been revealed about the upcoming refurbishment to Penrith Stadium.
The Western Grandstand will be demolished and re-built, while a stand will be constructed at the southern end of the ground – effectively ending the 'beer hill' era (though there is some talk it will be retained in some form). That will upset a lot of fans who love the atmosphere of that end of the ground, but you can't please everybody.
The Western Stand re-construction will include a much larger Chairman's Lounge. Let's hope the Panthers look after those long-term members in the Western Stand with seats in the new stand, and that it doesn't become too focused on corporate supporters. Penrith will move out of the stadium at the end of 2024 but will be back for the start of the 2026 season.
Membership longevity needs to be recognised
The Panthers have never recognised long-term season ticket holders any differently to someone in their first or second year as a member.
It's always been a frustration for life-long fans and it could end up proving a problem for the club when they do go 'on the road' in 2025.
If a 15 or 20 year member was recognised for that longevity – either through discounts, special merchandise or just general recognition – they'd be less likely to break that streak, and always renew their membership regardless of the circumstances.
But given there's no difference between being a veteran member and a newbie, you'd imagine many will sit 2025 out and wait until the Panthers return home in 2026.
Premier's own goal
NSW Premier Chris Minns has plenty of work to do to win back the people of Penrith after his bizarre backing of the Broncos in the Grand Final.
His refusal to throw his full support behind the only team from NSW in a radio interview on 2GB last Friday was utterly odd, particularly given Penrith proved to be a vital seat in the NSW election earlier this year. Minns was rather quiet about the Grand Final all week – failing to take the chance to talk up Sydney as the event host. It was strange all-round.
Erin's farewell
Popular Pantherette Erin-Louise Camilleri has hung up her pom-poms, opting to finish up with the club's cheer squad this year. Her last performance was at Sunday's Grand Final.
Spotted
Penrith Panthers recruitment manager Jim Jones enjoying a Grand Final day breakfast with his family at Percy Plunkett last Sunday morning.
Panthers back in Parramatta
Last year the Panthers avoided staying in Parramatta the night before the Grand Final given they were playing the Eels in the season decider. They'd stayed there for the Preliminary Final the previous week but sensibly avoided all the Eels fanfare for the big one.
Last week, with no such rivalry in place, they bunkered down at the Park Royal. Interestingly, they actually wanted to stay at Sydney Olympic Park but Brisbane, as the visiting team, get first choice of hotel.
New documentary coming
The Panthers have once again partnered with Channel Nine to produce a documentary detailing the club's ride to a third straight Premiership. Officials were considering releasing the documentary even if Penrith hadn't won on Sunday, but now won't have to make that call. It'll stream on 9Now later this year.
Broncos go off early
A couple of Brisbane staffers headed down to the team's dressing room after Ezra Mam's third try to begin setting up for the post-match celebrations. Like most at the ground, they thought the Broncos had it won.
Fanning rides Panthers wave
Surfing champion Mick Fanning played a big role in Penrith's post-match celebrations at Accor Stadium last weekend.
Fanning, a life-long Panthers fan, has been in the inner sanctum through the Finals series. He was partying with the players after full-time on Sunday night – soaking in Penrith's incredible victory over Brisbane.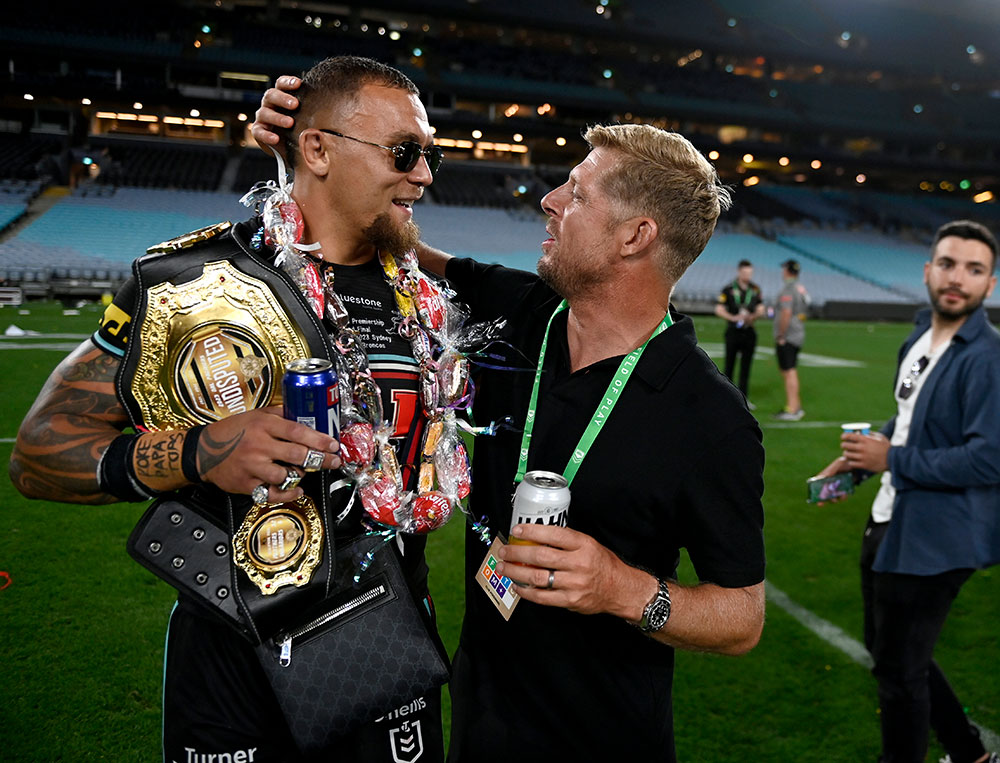 Is Fox League having a laugh?
Were Fox League contributors really criticising Penrith for not doing enough media appearances last week, labelling it a disservice to fans?
The Panthers would be well within their rights to never front up on 'NRL 360' again.
The program's coverage of the Panthers by particular contributors over the last three years has been disgraceful.
Fox has dug itself a hole by getting on the wrong side of the Premiers, and it only has itself to blame.
End of an era
One of the most recognised major sponsorships in Australian sport is now over with OAK finishing up as the club's principal partner following last week's Grand Final.
My Place will take over as the front of jersey sponsor for 2024, which keen-eyed readers may have noticed I revealed cryptically a couple of months back.
Paper back on board
The Western Weekender has signed on as a corporate partner of the Panthers for the 2024 season, extending the paper's long-term sponsorship of the club.
See you next year
I'm taking a few months off but I'll be back ready and raring to go for the 2024 NRL season. Thanks for reading the column this year. Let's make it four in '24!