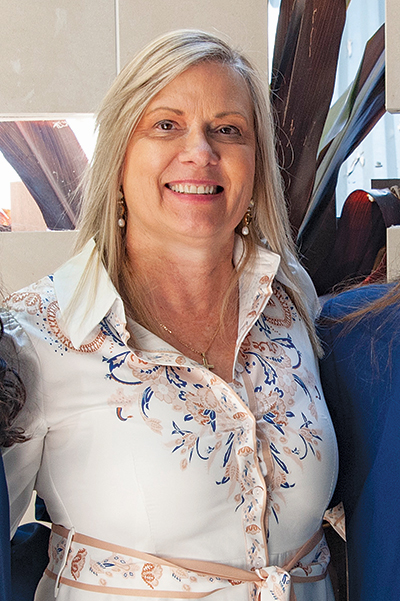 Next year, Caroline Chisholm College is preparing to celebrate its 50th birthday.
Since 1974, the school has been committed to providing young women with a quality Catholic education, which nurtures their learning, wellbeing and faith formation.
Principal Leader Tania Cairns (pictured) said the tagline 'celebrating our past, empowering our future' captures what it is all about in celebrating the school's momentous jubilee year in 2024.
"We're incredibly excited," she said.
"We really want to be the best in the west, and we believe that we're a place that can allow students to achieve their goals and flourish. We have built a strong learning culture with high expectations that allows us to be a college of choice for young women of the Greater Penrith and Lower Mountains region."
James Freeman, the Archbishop of Sydney, opened the school and named it Caroline Chisholm after the Australian pioneer and role model who fought for disadvantaged women. Since then, it has grown into a large school, which is now at the forefront of what contemporary education looks like for girls going forward.
As the seventh principal of the college, Cairns said it's a flourishing school with almost 1200 students.
She said their focus is on developing well rounded women who can make a difference in the world and be agents of change in our complex and challenging local and global world, especially with social justice issues such as poverty, inequality, and environmental sustainability.
"We're trying to maintain our traditions of the past and ensure that our girls are well prepared to meet the demands of the complex and challenging contemporary world," Cairns said.
According to Cairns, students at the college have opportunities to develop positive relationships allowing them to thrive with supportive females around them.
She said the school invests a lot of energy into helping the girls strengthen their capabilities so they can be everything they want to be as modern world design thinkers and problems solvers.
"We're investing in them, not only in the here and now, but also constantly about future thinking and future planning and goal setting," Cairns said.
"We're very focused on the needs of girls as learners, growing them to be independent, growing them to be resilient in their own right, and really targeting learning that builds their capabilities and skills as 21st Century learners. Our Partnerships and Pathways Coaches are a powerful team who coach and mentor our students through their senior learning journey to enable them to achieve exceptional results.
"It's really about understanding school is a very different place right now, but so is the world.
"Our challenge is to ensure our girls are given outstanding opportunities to connect, grow and flourish."
Enrolments are now open for 2025.
For more information, visit www.cccglenmorepark.catholic.edu.au.