The preliminary flight paths for Western Sydney International Airport have been made public.
The Federal Government has released an Aircraft Overflight Noise Tool which allows local residents to input their address and see the impact of the flight paths.
USE THE AIRCRAFT OVERFLIGHT NOISE TOOL HERE
The Tool reveals that Erskine Park will be one of the suburbs in the Penrith Local Government Area most impacted by aircraft noise.
Two runway models will be used – Runway 05 and Runway 23.
When Runway 05 is used, all aircraft arrive from the south-west and depart to the north-east. When Runway 23 is used all aircraft arrive from the north-east and depart to the south-west.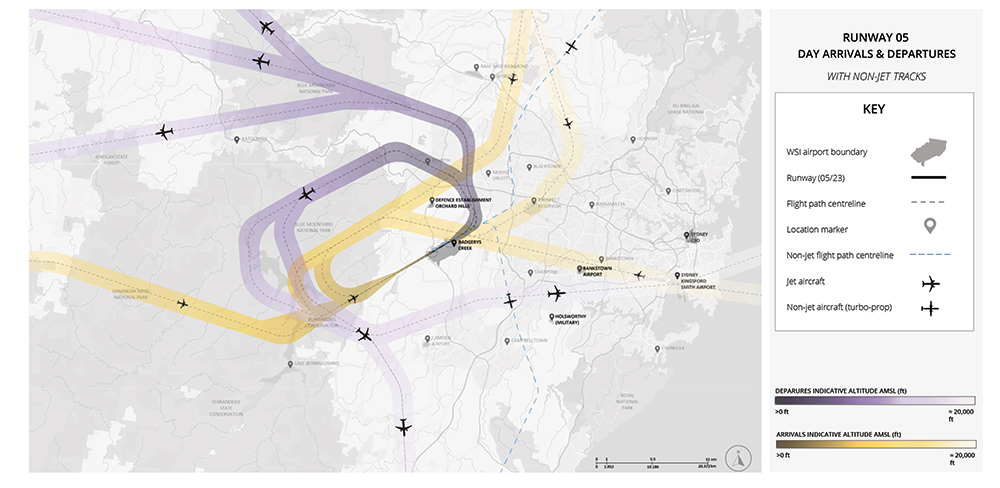 At night (11pm to 5.30am), when air traffic demand is lower and weather conditions permit, head-to-head Reciprocal Runway Operations (RRO) can be used to minimise the impact of noise on the most heavily populated areas of western Sydney. This means that aircraft would land on Runway 05 – arriving from the south-west – and take-off on Runway 23 – departing to the south-west.
"These preliminary flight paths have been developed by an Expert Steering Group led by my department and including AirServices Australia, the Civil Aviation Safety Authority, Department of Defence and airport operator WSA Co," said Minister for Infrastructure, Transport, Regional Development and Local Government, Catherine King.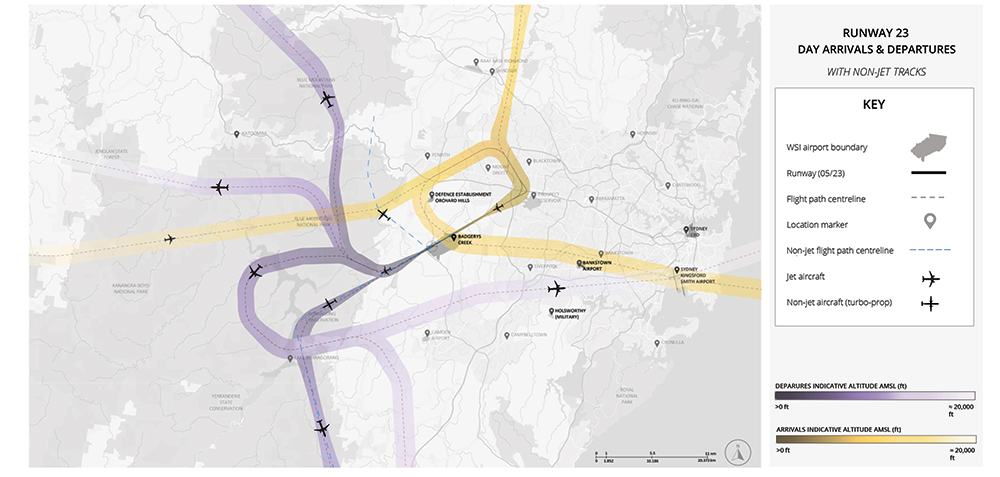 "Importantly, the preliminary flight paths were developed according to Airspace Design Principles that reflect community feedback from the 'proof-of-concept' flight paths released in 2015. These principles include minimising flights over residential areas and reducing the impact on the community of aircraft operations at night.
"My department will hold community information and feedback sessions as well as community information stalls across Western Sydney and the Blue Mountains over the coming months. Communities will be able to find out more information and speak with the flight path design team at these events."
According to Federal Lindsay MP Melissa McIntosh, the flight paths over the Penrith area are "significant", and include up to 37 departures per day over central Penrith at between 5,000-8,000 feet and 68 landings over the Cambridge Park area between 2,500-5,000 feet. This will occur between 5.30am and 11pm.
"There will be other impacted areas, including Twin Creeks and Claremont Meadows," Ms McIntosh said.
"With very little information at this stage, my main message to my community is to take part in the public consultation process. The Albanese Government must ensure the public consultation process is extensive, and in addition to direct impacts, it should also consider noise mitigation strategies.
"I welcome the local job opportunities, surrounding infrastructure and growth to our local economy that Western Sydney International Airport will bring, but it must be balanced. I look forward to receiving more information from the Government."
The Weekender this morning tested a number of addresses in the Aircraft Overflight Noise Tool.
One address in Kingswood near Peppermint Park shows Aircraft arriving into Western Sydney International (WSI) during the day will be descending between 10500 feet (3200 metres) and 8000 feet (2438 metres) above runway level at this location. Some aircraft may fly at a lower altitude depending on weather and operational conditions. Aircraft departing from WSI will be climbing between 5000 feet (1524 metres) and 8000 feet (2438 metres) above runway level at this location. Some aircraft may fly at a lower altitude depending on weather and operational conditions.
High Street in Penrith would experience up to 37 departures a day with flights between 5000 and 8000 feet. A further eight arrivals could be experienced overnight.
Blue Mountains Mayor Mark Greenhill has vowed to fight the proposed flight paths, which he says will be a massive concern for the community and environment.
According to Greenhill, about 40,000 Blue Mountains residents in the lower to mid mountains could be affected by the proposed flight paths.
"The flight paths show a complete disregard for the people of the Blue Mountains as well as the Greater Blue Mountains World Heritage Area," Mayor Greenhill said.
"Our quality of life in the Blue Mountains is clearly threatened. Planes will be flying over our homes and our World Heritage National Park 24 hours a day, seven days a week. No curfew. The people of the Blue Mountains deserve better."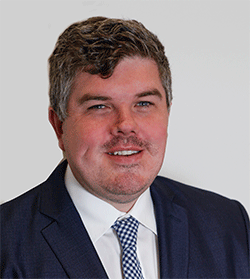 Troy Dodds is the Weekender's Managing Editor and Breaking News Reporter. He has more than 20 years experience as a journalist, working with some of Australia's leading media organisations. In 2023, he was named Editor of the Year at the Mumbrella Publish Awards.