A man will spend at least 18 months behind bars for a string of domestic violence charges.
Blair Aaron, 32, appeared at Penrith Local Court on Tuesday, May 23, charged with two counts of 'common assault', two counts of 'intentionally choke etc person without consent' and one count of 'assault occasioning actual bodily harm'.
According to court documents, the offending took place in March 2021 at the victim's home in St Clair.
The pair first met through the online dating application 'Plenty of Fish' and maintained their relationship while Aaron served a term of imprisonment in 2020.
After he was released, he spent most of his time with the victim and her family.
On March 22, 2021, an argument between the pair ensued and Aaron grabbed the victim by the throat, squeezing it so hard that she struggled to breathe.
He then pushed her backwards into the TV unit and grabbed her by both forearms before throwing her into the bannister connected to the stairs.
On a separate occasion he used both hands to grab the victim by the throat again, squeezing it until she struggled to breath and her eyes became hazy.
He then lifted her so both feet were off the ground and "threw her in a body slamming motion" on the bed.
The victim told her parents, who entered the room after hearing her scream, what had happened.
She also reported the incident and provided photographs of her injuries to police, which were investigated.
On Tuesday, Aaron's lawyer told the court that his client was in a relationship that he should have left.
He asked the magistrate to let Aaron serve his sentence in the community by way of an Intensive Correction Order, saying he plays a fundamental role in his family's business.
"There is little prospect of him endangering the victim or any other member of the community," he said.
Magistrate Georgia Knight was frank in sentencing, saying Aaron "overstepped the boundaries".
She also told the court that a full-time custodial sentence is necessary to denounce domestic violence.
Aaron was sentenced to an aggregate term of two years imprisonment, with a non-parole period of 18 months.
He will be eligible for parole in November 2024.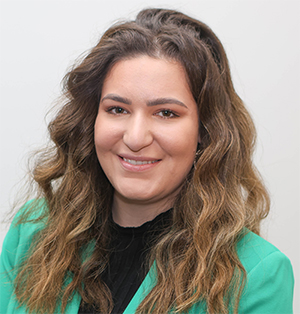 Formerly with the ABC, Makayla is a graduate of Western Sydney University. She covers a variety of news topics for the Weekender, including courts.