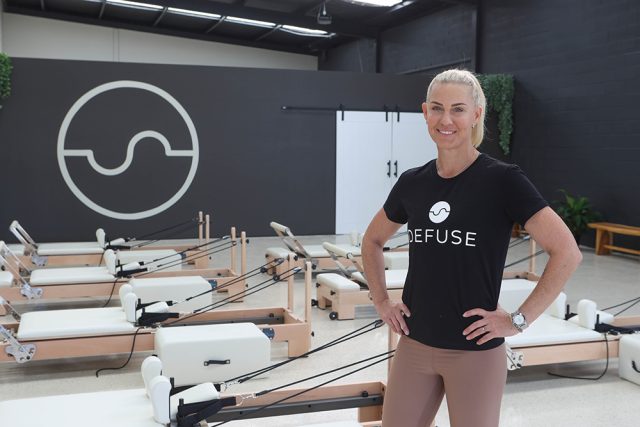 The days of just simply going to the gym to get fit are over, with yoga and pilates now the words on everyone's lips. Thankfully, a new experience in wellbeing is about to make its way to Penrith, and it's guaranteed to turn heads.
Formerly a crossfit trainer, Erin Vicary noticed during COVID lockdowns that pulling and pushing heavy weights didn't seem to have the same hype anymore, with many opting for a more holistic means of wellbeing.
Since completing her matwork course, followed by reformer, ball, band and circle, Vicary has only become more passionate about the training style, and ultimately made the decision to move her gym, which was situated at her home in Penrith, into a new studio focused on providing benefits for both the body and mind.
Located on Coreen Avenue, Vicary has been working on her new studio, Defuse, since February, spending each day painting and jackhammering in hopes of opening as soon as possible.
"Being so involved in it all has been so interesting, and it's made it so much more special," she said.
Defuse isn't just about pilates – upon opening, the studio will have a group of amazing, qualified women teaching everything from yoga to HIIT classes. They will also be running classes for older adults each day, allowing clients to be surrounded by like-minded people who are also wanting to improve their health.
"There's nothing as large a scale as what I have for pilates and yoga in one place," she said.
With a focus on wellbeing, Defuse is set to be a one-stop-shop for everything mind, body and soul. The studio will be home to a sauna, in addition to weekly soundbath and meditation workshops facilitated by PureZenergy, leaving participants feeling completely relaxed and recharged.
"Instead of just going to the gym and getting exercise, this is for your wellbeing. We really want to focus on that spiritual and mental side of things as well," she said.
For Vicary, it's the community aspect of the studio which she holds closest to her heart, hoping that those who come to her classes will also now have a place to make and reconnect with friends.
"What I'd love to bring to Defuse is that sense of community, and friendship," she said.
"I want it to be a place where you can just come and have that hour to yourself and unwind – hence 'Defuse'!"
With the final renovations now underway, Defuse is set to open in the coming weeks. For updates, be sure to keep an eye out on their socials, or subscribe to their newsletter at defuse.au.