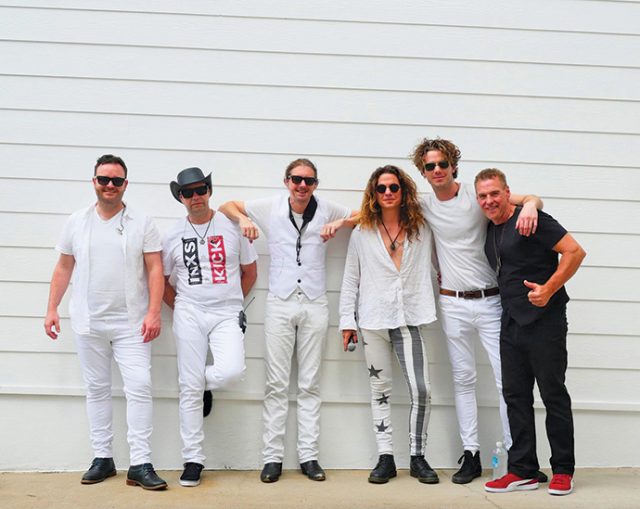 Are you an INXS fan and want to go on a journey through all the classic hits that made the band a household name for decades?
The Australian INXS Show will make you feel like you are at a proper rock 'n' roll stadium show when they visit Blue Mountains Theatre on Friday, April 21 and The Joan on Saturday, July 29.
By far the best INXS experience in the world today, the full six-piece band, that hails from Melbourne, has travelled to Dubai, India, Hawaii, Tahiti, New Zealand, Hong Kong, Vanuatu, Singapore, Japan, China, Bora Bora, New Caledonia, Taipei and South Korea to captivate audiences.
Fronted by the incredible Dellacoma Rio, who does an uncanny portrayal of Michael Hutchence, the passion for the rock band is clear.
"I am a storyteller and a performer and one of the things that I love most about life is observing humans and the way they interact and what makes them tick," Rio said.
"It's always been fascinating to me studying what captures the human heart and INXS had a way of doing that and even now, over a decade after they called it quits, their music still captures the heart."
While touted as a tribute show, the Australian INXS Show adds its own flair with a band of talented musicians.
"We are the most authentic INXS tribute show going around, from the guitar parts each guitarist plays right down to the harmonies sung," Rio said.
"We've taken our inspiration for the show from the iconic Wembley Stadium performance in 1991 and added our own twist."
A high energy two-hour show with a full video show to accompany the entire performance, the band will invoke every emotion in you, especially from the first chord of 'Never Tear Us Apart'.
"We pride ourselves on our live performance and engagement with the audience," he said.
"For INXS fans, we hope we can make you feel what you felt the last time you saw them live."
Get ready for a 'New Sensation' and buy your tickets by visiting www.theaustralianinxsshow.com.au.