The next stage of the Mulgoa Road upgrade is about to begin but there is a long road ahead for motorists until the project is complete.
With the contract awarded to Seymour Whyte Constructions and Turnbull Engineering last year, Minister for Metropolitan Roads Natalie Ward visited Penrith on Tuesday to announce that work would begin between Jeanette Street and Blaikie Road at Jamisontown.
"This will take approximately three years to around 2026, employing 200 people on site," Ward said.
"We know this critical arterial road sees more than 52,000 cars a day and so allowing that free flow of traffic by widening the lanes from two to three lanes will assist with that congestion for locals."
Estimated to cost around $234.9 million, Ward said the disruption from the roadworks is necessary to future proof the area for increased growth.
"We will be providing noise abatement, there will be a new bike path, and a bus priority lane in the area, so all of that will ease the congestion, but in the meantime, some of that work will be carried out at night-time so we can ensure traffic, that is already congested here, can flow through quickly and minimise disruption," she said.
"Of course, we always ask for people's patience and understanding as that work is being undertaken."
Penrith MP Stuart Ayres explained that the timeframe is partly due to having to navigate the section underneath the M4 Motorway.
"We have got another complicated site which is why it is going to take a little bit of time, but this is what we do best, and it is going to set the wider Penrith community up for the future," Ayres said.
"We've invested a lot of money into the widening of Mulgoa Road, this is another key milestone around the construction, and we are working towards issuing contracts for the next stages as well."
A key road for residents in Glenmore Park and Mulgoa, Member for Mulgoa Tanya Davies welcomed the announcement and said the upgrade was much-needed.
"It's just wonderful to be at this stage of the project where we will start to see construction happening on the ground and my community has been really patient as we work through the really complex design features of this project," Davies said.
"In a few short years they will begin to experience the benefit of this wonderful project."
Liberal candidate for Londonderry Samantha Talakola also said she was excited for the benefits it would bring local families in cutting down travel time around the area.
Penrith Labor candidate Karen McKeown acknowledged that the improvements are needed but questioned the timing of the project and Tuesday's visit.
"Everybody knows this is a traffic pinch point, and it needs to be fixed," McKeown said.
"Many locals are rightly sceptical that after Dominic Perrottet and the Liberals have been in office for 12 years, construction is only starting now – right on the eve of an election."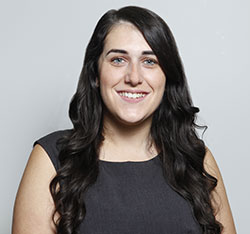 A graduate of Western Sydney University, Emily covers Local, State and Federal politics for the Weekender, as well as crime and general news.