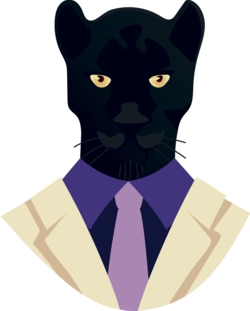 Nothing in heated exchange
The much-publicised 'conversation' between Jarome Luai and Jaeman Salmon after full-time last Friday night was not the first time the pair clashed. Eagle-eyed supporters at the ground spotted the duo having words after Adam Reynolds kicked a field goal to put the Broncos 13-6 up.
Regardless, everyone around the club is very keen to play this down – and it appears it's legitimate to say it was simply a disagreement that all colleagues in such an environment would have from time to time. It's nothing to be overly concerned about. Luai and Salmon have always gotten on well – and were mucking around at training together on Tuesday.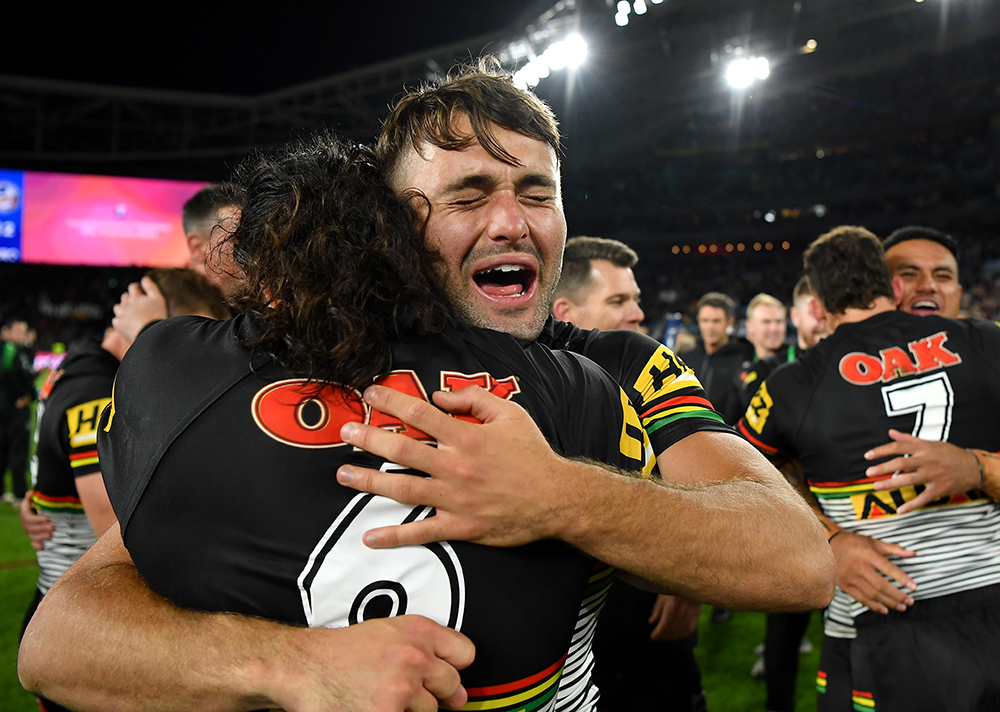 Panthers go Shark hunting
I'm told Penrith are interested in a Cronulla forward to bolster their squad for 2024. Watch this space.
Negotiation challenge
One of the more complex situations when it comes to negotiating new deals at Penrith is that a number of players involve not only their parents, but their church.
It makes the ins and outs of various deals a little more complicated – and there's at least one player whose father was way too involved in contract negotiations for the club's liking.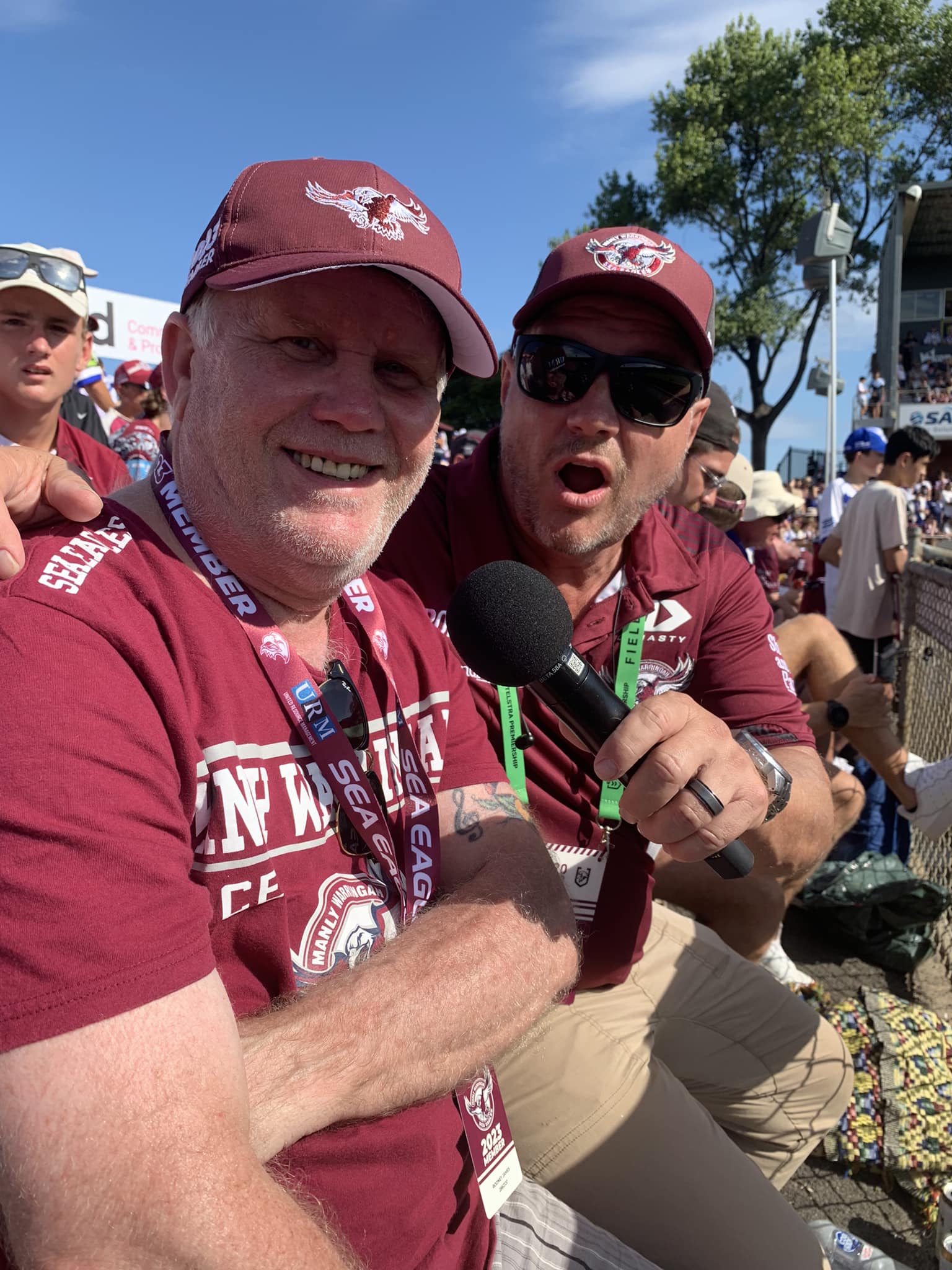 Spotted
Former Panthers ground announcer Scott McRae (pictured) at his new gig with the Manly Sea Eagles.
Spotted
Another former ground announcer, Zac Bailey, a little closer to home – standing in the media box last Friday night at BlueBet Stadium.
Leniu's bizarre words
There is no doubt that an interview outgoing Panthers forward Spencer Leniu undertook with the Sydney Morning Herald raised some eyebrows this week.
"Trent [Robinson] is a really good coach and the Roosters have been the pinnacle of the NRL for a number of years," he told the Herald.
"There was an opportunity there for me and he explained what he sees in me and how I can impact that team."
The "pinnacle of the NRL" comment hasn't gone down well with Penrith fans and some officials. After all, Leniu is currently at a club that has won the last two Premierships, played in three straight Grand Finals and has an extraordinary win percentage. If that's not pinnacle, I'm not sure what is.
It's odd praise for a team that remains a strong competitor and opposition for the next six months. No matter how he explains it, it's a bizarre comment to make.
Transparency, please
The NRL usually live streams Head of Football Graham Annesley's Monday press conference in full, so fans can get insight into any controversial decisions made over the weekend, as well as revealing statistics and other interesting information.
On Monday, it only posted select videos from Annesley's briefing – a two minute boast about weekend stats, and then a couple of HIA explainers. Let's hope we get back to full transparency in future weeks, with the full press conference available to view live and afterwards.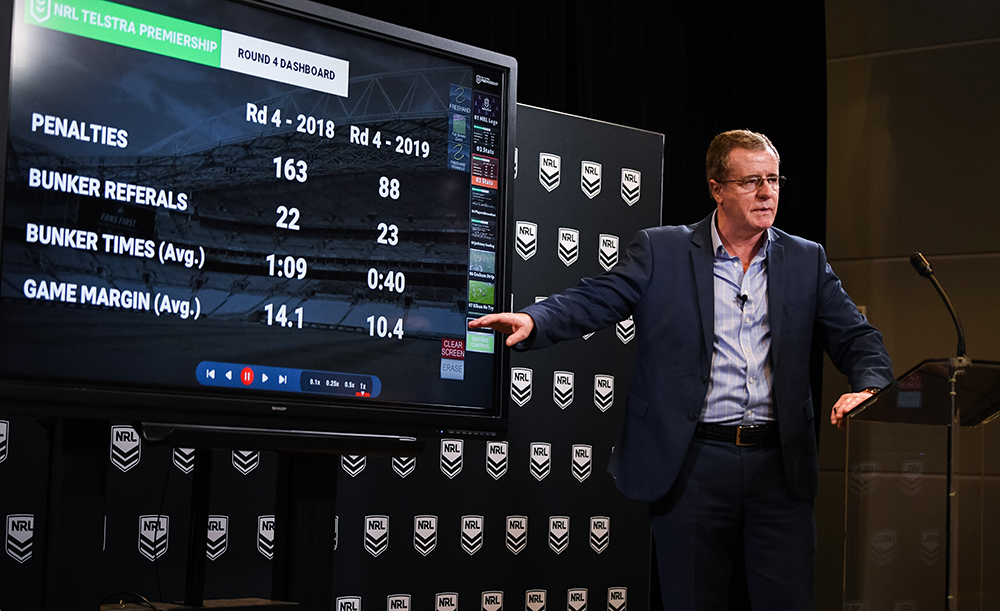 Penrith sets new TV record
Last week's NRL game between Penrith and Brisbane was the highest rating Friday night match of all-time on Fox Sports. 313,000 people watched the game through Foxtel but when streaming and Kayo figures are added, a total viewership of 552,000 was recorded. Never before has a subscription game in the regular season rated that highly.
Spotted
This passionate Panthers fan in a unique, and dare I say failed, attempt at staying dry last Friday night.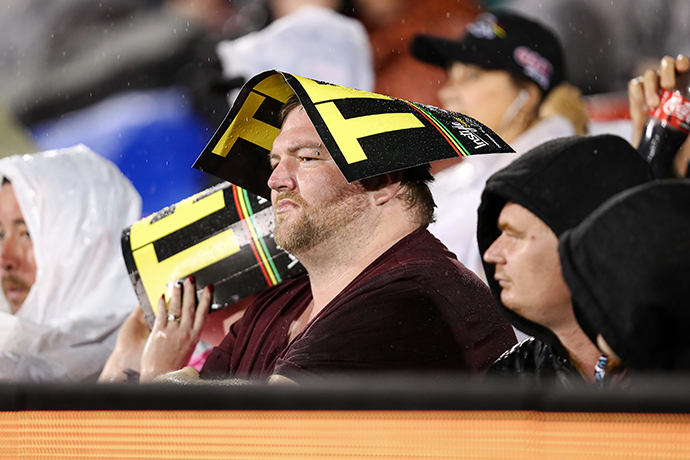 Ciraldo hunted by Bennett
It turns out super coach Wayne Bennett tried to lure Panthers assistant coach Cameron Ciraldo to the Dolphins for their inaugural season this year.
In the new Stan documentary 'Dawn of the Dolphins', Bennett reveals he called Ciraldo about joining the club as an assistant, with the path to eventually taking over as head coach. In the end, Ciraldo took on the job with Canterbury.
Must-have for collectors
Trading cards might not be as big as they were in the 1990s, but die-hard footy fans can still get their hands on the collector's items this season. 2023 footy cards are out now, and they include a range of special sets. A full box costs about $180.