Kylie King wanted to set a Guinness World Record but a challenge such as eating six hot dogs in one minute wasn't really her style.
The hypnotherapist, mindset coach and Founder of the Penrith Blue Mountains Ladies in Business Community decided to put her networking skills to use and is hoping to collect as many business cards as she can in eight hours.
King will be attempting to set her record on Monday, March 13 between 12pm and 8pm at Café Upstairs at Suite 102, 64-68 Derby Street, Kingswood.
While setting a Guinness World Record was something she always wanted to tick off, the business owner said she was spurred on because of the pandemic.
"During lockdown I had a friend who got very sick and passed away from cancer that wanted to achieve things, but she kept putting them off so that period of COVID made me reassess and pull out my bucket list," King said.
"I started looking through records and thought I'm not going to smash 49 watermelons on my head or eat two litres of mayonnaise, and I do not have the patience to grow my hair out, so I tried to look for something I could do and use the network around me."
After some searching King came across the most cards collected in 24 hours but thought it might be out of her reach.
"The record was done in 2013 by a UK man, which was 402 cards, but through applying for that Guinness reached out and said there was an eight hour one, which I thought was a good place to start," she said.
"The target to beat is only 136 from a lady in India I believe, so I am going for 200, which is quite a manageable target."
While 200 cards might seem like an easy task for a business owner, the process has strict regulations to be counted.
"It is a continuous clock for eight hours, so if I go to the bathroom or take time to eat, that gets taken out as there are no breaks," she said.
"I can't just go and pick up cards but I have to have a brief conversation with each person to accept the card, so if I do 200 over eight hours, it breaks down to two minutes per interaction."
King has to be videoed the whole time, have four independent witnesses working shifts and then send through all of the details and cards to Guinness World Records as evidence.
Anyone with a business card is encouraged to come down on Monday from lunchtime to be a part of some potential Penrith history.
"Café Upstairs is sponsoring the event and giving every participant a free small coffee, so if you have a card with your company name or if you have multiple businesses with different details, bring them down to have a quick chat with me," King said.
"This is a fun, quirky thing to take part in and I hope people realise if they have a goal that they want to achieve to just go for it."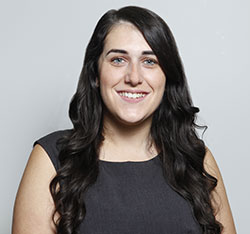 A graduate of Western Sydney University, Emily covers Local, State and Federal politics for the Weekender, as well as crime and general news.