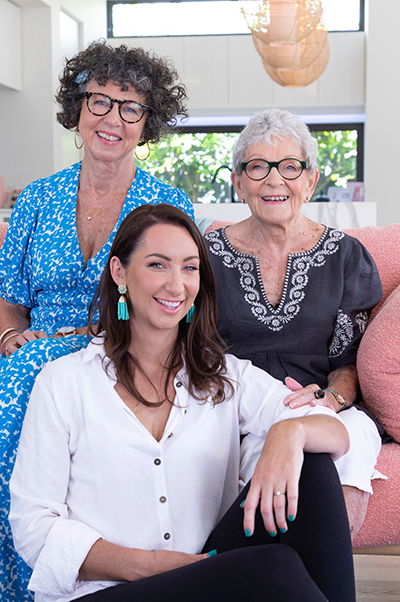 TV hit 'Gogglebox Australia' will be back on February 22, but a much-loved member of the show won't be returning to the couch.
94-year-old Emmie, who has been on the show with her daughter Kerry and granddaughter Izzy since 2016, has recently been diagnosed with dementia.
Kerry and Izzy will return to the couch but sadly, Emmie won't be part of the forthcoming season.
"The beauty of 'Gogglebox' is that it's real and brings families together and with that, comes the reality of changes in a family. We've had to make an array of difficult decisions that are best for Emmie since her recent diagnosis with dementia. Emmie has now happily settled into an aged care facility right around the corner from both Isabelle and me," Kerry said.
"Mum will no doubt be watching this season and despite missing her on the couch, we hope to continue to entertain our loving audience."
Izzy said it had been a tough few months for the family.
"We want everyone to know that Emmie is in the best care and between Mum and I, we visit her almost every day," she said.
"Whether it's for happy hour on Fridays or taking her dog Pelle in for cuddles, she still lights up the room, and us, with her cheeky smile. We hope by being transparent with this news, that it helps to open up the conversation about dementia and the challenges that many families sadly have to face."
The original 'Gogglebox' households returning include cricket mad fans, The Delpechitra Family, happily married couple and grandparents Lee and Keith, Greek best friends Anastasia and Faye and tight knit family of four The Daltons.
Also ready to get stuck into their TV snacks are best mates and larrikins, Adam and Symon, Sarah Marie, Matty, two year old son Malik and Uncle Jad, brother and sister foodies Tim and Leanne, avid surfers and best friends Milo and Nic and our latest and loved household Kevin, Bob, Jared and Mia.
Gogglebox airs on both Channel 10 and Foxtel.