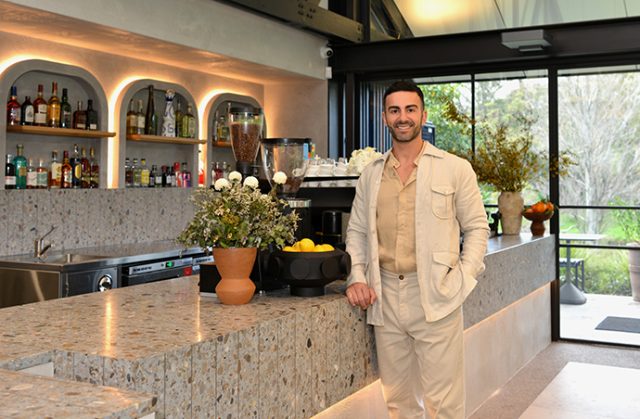 The highly-anticipated Misc. Restaurant has officially opened its doors in Parramatta Park – with restaurateur and 'Gogglebox' star Jad Nehmetallah at the helm.
Mr Nehmetallah might be best known for giving his opinion on Channel 10's 'Gogglebox', but soon it could be the food at his brand new restaurant that gets people talking.
Visitors to Parramatta Park will now be able to enjoy Mediterranean-style food at Misc. Designed to be "sophisticated yet approachable," the 300-seat venue offers both a restaurant and an event space for functions and private dining.
For Mr Nehmetallah, Parramatta is the perfect location for the new restaurant.
"I couldn't pass up on the amazing location… the surroundings are so picturesque and the building itself is absolutely stunning now that it's been refurbished," he said.
"Parramatta is a very growing city, very culturally diverse, and the food and beverage scene is also growing immensely and I wanted to bring something to the people of the Parramatta that we thought was missing."
Misc. sits on the site of the former Parramatta Cafe and Event Centre at Little Coogee, which was destroyed by a fire on Boxing Day five years ago. Now, rising from the ashes, Misc. plans to become a "must-see" for all western Sydney locals.
"We wanted to bring something that's unique, fresh, innovative and forward-thinking – something that you would normally find towards the east of the city," Mr Nehmetallah said.
"We're sophisticated but we don't take ourselves too seriously – the focus is on the food and what it means to different people.
Short for the word miscellaneous, Mr Nehmetallah believes the name Misc. sums up what the restaurant is all about.
"The definition of miscellaneous is items or people considered together from various types and different sources," he said.
"And that's what [the restaurant] is – it's a collaboration of food and people gathered together from various types and different sources, bringing it together under one roof."
It's been a long time coming for the restaurant, which originally planed to open last year before COVID forced its delay.
Now, Mr Nehmetallah said the timing has never been better.
With a separate lunch, breakfast and kids menu, Misc. will offer Mediterranean-style share plates with indoor and outdoor dining. A creative collaboration by executive chef Sebastien Geray and Joel Bennetts, Mr Nehmetallah said the menu allows visitors to get a taste for "a bit of this and a bit of that."
"We just want to bring back old school hospitality," he said.
"You'll have a great dining experience where you eat and you drink and interact with the staff and the venue – that feeling is what is going to bring people back," he said.
To find out more about Misc. go to www.instagram.com/misc.parramatta.
Ellie Busby is a news reporter for Western Sydney Publishing Group. A graduate of the University of Hertfordshire and Western Sydney University, she is a journalism Major. Ellie has worked with Universal Media, The Cova Project and for a range of other projects.