There is a thrill to be had when you find a unique second-hand item or piece of clothing that is exactly what you are after, at a great price.
People are being challenged to change their shopping habits in a bid to help the environment during Buy Nothing New Month (BNNM) this October.
With a strong link between wasteful consumption and climate change, Founder of BNNM Tamara DiMattina wants to change the thought process behind buying.
"With fast fashion you might have a young girl working in a factory in Bangladesh in unsafe conditions for low pay so we can have cheap t-shirts that we wear once or twice and then they get thrown in landfill," she said.
"We are draining our finite resources and energy to make unnecessary stuff so to be a part of the solution we need to look at other ways to get things, whether you swap something, borrow it from a mate, rent it or buy it second-hand."
While food, medication and hygiene products can be purchased new, all other items should be sourced by alterative methods.
"Technology has made it easy with people selling high designer items on Instagram or giving away plants on Gumtree which would have been thrown out," Ms DiMattina said.
"I may have bought a few phone chargers because they are not made to last, but my iPhone and laptop are refurbished, and charity stores have a range of great stuff with the money going towards good causes."
With op shops in both Penrith and St Marys, The Salvation Army sells everything from pre-loved clothes to homewares and toys.
Salvos Ambassador and eco-stylist Faye De Lanty browsed the St Marys store while telling the Weekender that buying second-hand can be a "powerful" move.
"Thrifting is a great way to use what is already in existence which helps the planet, it keeps clothing out of landfill and supports the community with the different programs The Salvation Army has," Ms De Lanty said.
"As individuals we want to stand out and thrifting is a great way to find a one-of-a-kind item that feels new to you usually at a good price."
Ms De Lanty said fashion trends can still be followed while being a part of the circular economy.
"People from all walks of life donate things so you can find items from different eras that fit the trends such as Y2K or the 90s which is popular right now," she said.
"Sometimes I go to look for staples such as a blazer for work, a classic striped shirt you can layer, a nice scarf for an outfit or a great vintage bag.
"Other times I remain open to the magic, and you will be surprised with what you can find."
Visit www.buynothingnew.com.au.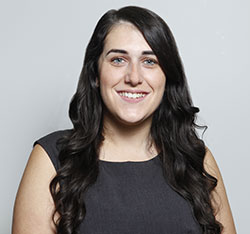 A graduate of Western Sydney University, Emily covers Local, State and Federal politics for the Weekender, as well as crime and general news.