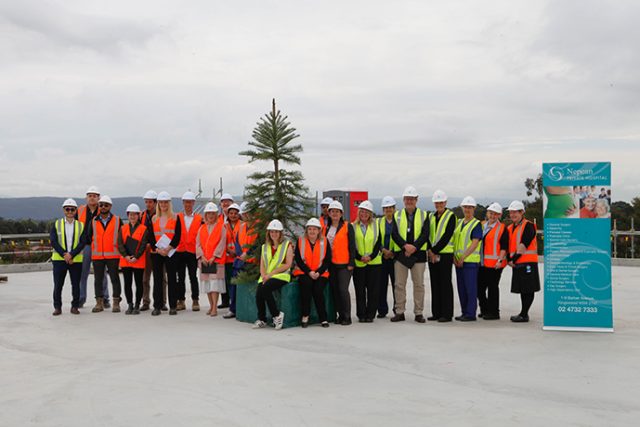 All eyes were looking up as a rare Wollemi Pine was craned to the rooftop of Nepean Private Hospital on Monday morning.
The sight was part of a topping out ceremony to celebrate the milestone of reaching the highest point of construction for its multi-million-dollar expansion.
Nepean Private Hospital General Management Tim Sinclair said the construction workers had done well dealing with wet weather caused by La Niña.
"It has taken us a little longer to reach the pinnacle of the building today, but the team has done an extraordinary job despite the challenges like pumping out water every morning until we got out of the ground and we haven't lost that much time in the scheme of things," Mr Sinclair said.
"We are at the highest point of the building and more than halfway through the project so this time next year the building will be a hive of clinical activity, so we are really excited about that."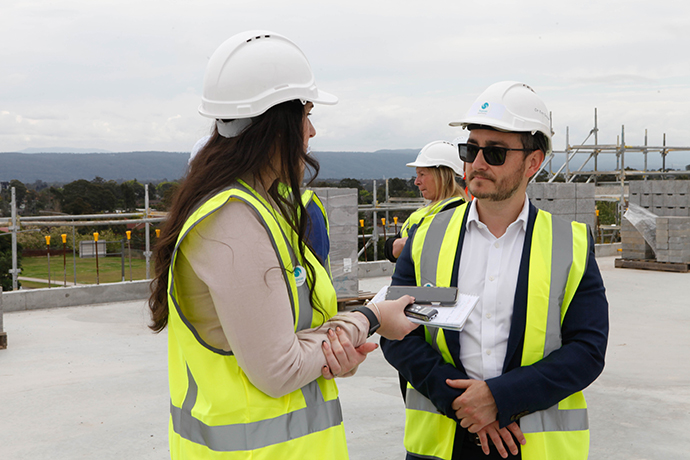 Estimated to cost around $40 million, the expansion on Barber Avenue, Kingswood will connect to the existing building which will also be redeveloped.
"We are creating a brand-new purpose-built day surgery along with four new operating theatres, a large sterilising department and we are building 17 consulting suites where we will house various doctors who buy those suites," he said.
"There will be a new café downstairs in the new foyer and we will be doing a refurbishment of the existing main foyer and an upgrade of our car park."
With topping out a tradition of the construction industry, Mr Sinclair explained the significance of the chosen tree.
"In 1994 a canyoner was abseiling in the Blue Mountains when he came across a canyon filled with strange massive pines that towered above the surrounding foliage with fern-like leaves and lumpy bark," he said.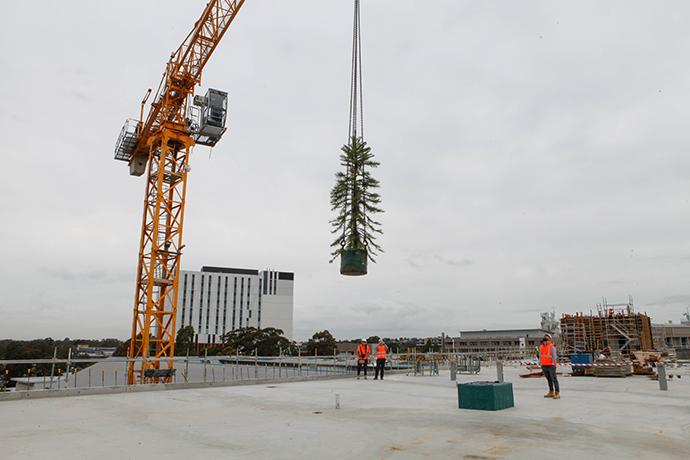 "The chance finding of Wollemi was one of the most significant botanical finds in the last 100 years because the ancient tree species was thought to be extinct millions of years ago. We have craned ours into the box but later it will be planted on the ground where we hope to see it flourish for many decades to come."
Mr Sinclair said the whole team at Nepean Private looks forward to being able to provide more care for the community in the years to come.
"The enhanced volume of patient services we are going to provide will meet the demand and the needs of a rapidly growing population," he said.
"One of our key aims is to satisfy the demand of the local area than to see patients travel further east to other hospitals."
The project is set to be completed in June 2023.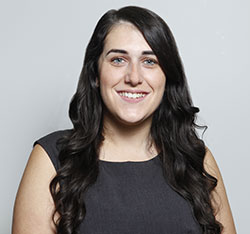 A graduate of Western Sydney University, Emily covers Local, State and Federal politics for the Weekender, as well as crime and general news.