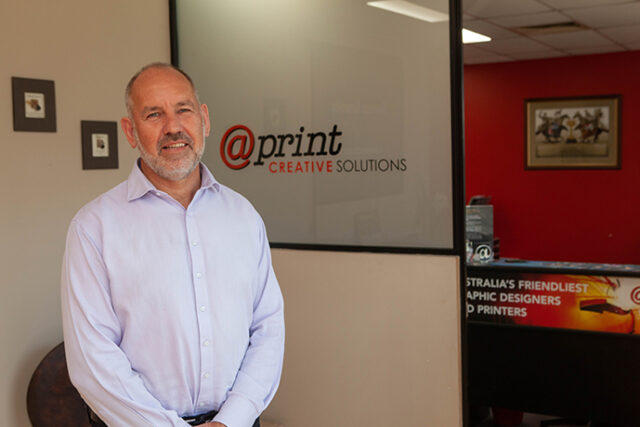 A sign of a successful business is their longevity and @Print Creative Solutions has that in spades, celebrating 20 years in business this year.
@Print commenced operations in July 2002 in North Rocks before moving to Abel Street in Penrith in December 2004. They are currently located in Lawson Street, Penrith, where they've been since 2009.
20 years ago @Print evolved when Aaron Tyers, a freelance typesetter, set up the business with two other full-time employees.
The primary work undertaken was graphic design and print management, which continues to this day.
"We specialise in understanding our clients' – and potential clients' – requirements and supplying a solution," Mr Tyers said.
"We design and print with a purpose – that purpose being producing material that will help build and grow businesses.
"We do not print for the sake of printing. We always try to discourage the 'scatter gun' approach."
@Print Creative Solutions can help with business cards, flyers, brochures, presentation folders, stationary, posters and more – all the material companies need to build and grow their business.
"We are more than happy for clients to call and discuss their requirements or call into our premises and see some of our samples," Mr Tyers said.
"We are also happy to meet at their premises if it is more convenient."
Mr Tyers said the secret to @Print's success over the past two decades is listening to their clients and providing the best possible service around.
"Our commitment has never wavered," he said.
"We always endeavour to deliver fast and accurate turnaround for our design and printing at very affordable prices.
"We listen to our clients and provide a solution tailored to their needs and purpose."
For all your printing and graphic design needs, look no further than one of Penrith's most experienced and well-known businesses, @Print Creative Solutions.
@Print is located at 2B/21 Lawson Street, Penrith.
For more information on the services they offer, call 4731 5055 or visit www.atprint.com.au.
Aaron Tyers and the team are ready to make your printing and graphic design dreams a reality.