The Great West Walk has been extended by 80 kilometres, making it possible to walk from Parramatta to Penrith and now through to Katoomba.
To celebrate the addition, The Walking Volunteers community group finished a nine-day walk by crossing the Yandhai Bridge at Nepean River in Penrith on Wednesday afternoon.
Western Sydney's longest recreational walking trail, which is mapped out by the group with the support of local councils and agencies, now totals 140 kilometres.
The tracks go through all different scenery and architecture including urban landscapes, public parklands, protected woodlands, up mountains and by local river systems.
The Walk Volunteers Secretary, Bill Avery said the inaugural walk makes the group's dream of mapping the walking route a reality.
"This walking route is part of a 1,500-kilometre network of walking routes around greater Sydney that The Walking Volunteers have proof-walked and mapped over the last 18 years," he said.
"Over 900,000 people have accessed these maps since 2019 when we made them available to freely download onto smartphones, tablets and PCs and we hope it persuades more people to walk."
Starting the walk in Katoomba last week, Mr Avery said the volunteers, who are all over 60-years-old, have been enjoying the scenery.
"We did nine days with a rest day in the middle and averaged around 10 kilometres a day before we would go back to a house we rented, as we didn't want to do huge numbers, but we took our time to enjoy it all," he said.
"We walked down the escarpment and saw beautiful views like at Sublime Point, Wentworth Falls and on our final day we went from Lapstone down the Knapsack Bridge, past Lewers Bequest to the bridge to finish."
The NSW Minister for Infrastructure, Minister for Cities, and Minister for Active Transport, Rob Stokes joined day four of the walk to officially launch the new section.
Western Sydney Regional Organisation of Councils (WSROC) President, Councillor Barry Calvert said the walk has become a significant piece of regional 'green infrastructure'.
"WSROC commends landholders Blue Mountains City Council and NSW Parks and Wildlife Services who made possible this latest extension to Great West Walk, and other landholders along the entire 80-kilometres of this glorious route including Blacktown, Parramatta and Penrith City Councils, Parramatta Parkland Trust and Western Sydney Parkland Trust," Cr Calvert said.
"The cooperation and dedication to this project has created a fantastic community asset that will promote active lifestyles and provide us with plentiful opportunities to explore some of the most spectacular landscapes that greater western Sydney has to offer."
For details of the Great West Walk, including interactive maps and routes, visit greatwestwalk.com.au.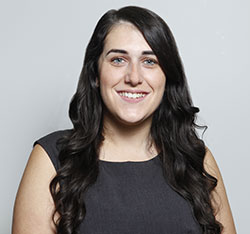 A graduate of Western Sydney University, Emily covers Local, State and Federal politics for the Weekender, as well as crime and general news.