A high-end Medi spa, laser clinic and beauty salon will soon be added to the changing face of Smith Street in South Penrith.
Work is underway for the salon named 'Melissa Peters' that will provide people with all their beauty treatments in one location.
Working in the beauty industry for 16 years, owner Melissa Peters said it is the perfect opportunity to expand on the services and experiences she provides.
"I had a home-based salon in Orchard Hills for six years but had to close as we were compulsorily acquired by Sydney Metro," Ms Peters said.
"I had always wanted to open a bigger space and had this vision of creating something that was unique in the industry and stood out in Penrith."
Standing out is the extensive range of wellness services that will be taking place in the luxurious space.
"We have always done laser hair removal but I have invested in superior equipment so we can offer things like tattoo removal, medical grade skin treatments and more advanced body treatments such as body contouring and skin tightening," she said.
"All of our beauty services like manicures, pedicures, eyebrows and makeup will also be done in our relaxing space."
Behind the aesthetically designed interior is another local female-owned business, Alicia Xiberras Interiors.
"We are luxury designers who work all around Australia but we are based in Penrith so we love when can create that cosmopolitan feeling, so you don't have to travel to the city," Founder and Director, Alicia Xiberras said.
"Melissa wanted something different, so we moved away from a generic salon look and brought a lot of warm, natural tones with a lot of texture to be inviting.
"We also made sure to create areas that could be beautiful backgrounds in photos because it is important for businesses to be share-able on social media."
Hoping to open next month, Ms Peters said she is excited to see her vision complete and to welcome the community in.
"I have an amazing team, a supportive family and the other businesses have been great so I cannot wait to do what I genuinely love which is making people feel good from the moment they walk in," she said.
"We have our wonderful current clients but we have created a space that we can grow with so I hope we can have more people experience what we do and keep coming back in the future."
To keep up to date with the opening of Melissa Peters, visit www.facebook.com/melissapetersbeauty.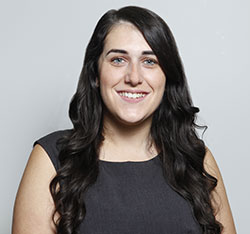 A graduate of Western Sydney University, Emily covers Local, State and Federal politics for the Weekender, as well as crime and general news.