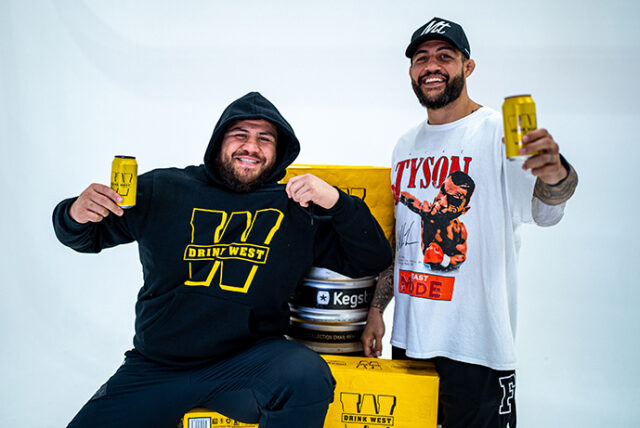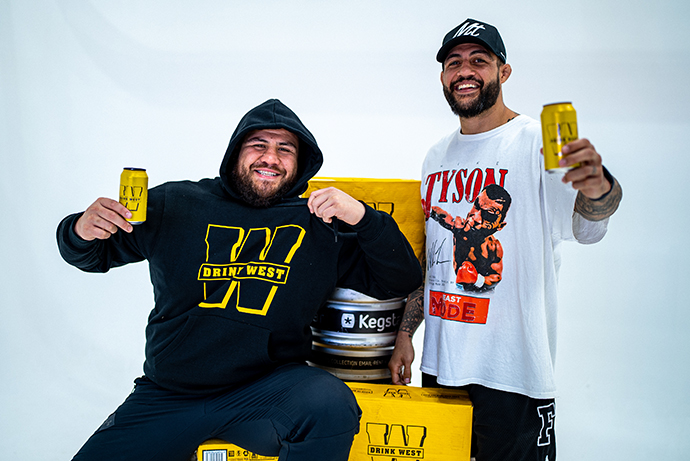 Local UFC fighter Tai Tuivasa is pretty blunt when describing how he became involved with the creation of local beer Drink West back in 2019.
"We were sitting around after training and we were thirsty," he says in what is his eighth straight one-on-one interview in a row, fresh from announcing that the beverage has become the official beer partner of the UFC in Australia.
Tuivasa and fellow UFC fighter Tyson Pedro are both standing inside an empty warehouse, save for a freshly made UFC and Drink West banner, that will soon became Drink West's new brewery.
Part of the redevelopment of the former Crane Enfield site on Castlereagh Road, it's a big step for the little beer that could – and the UFC partnership is only continuing to foster that growth.
"Anything in life that you want to pursue starts with a small thought and we just kind of kept at it and kept at it and now we're taking those next steps to make it a bigger business," Tuivasa said.
"There is no limit to anything I suppose. We didn't think it was going to be anything, it was just a thought to make some beer. The market was there and now we're taking it to the next level."
Tuivasa, currently on a break before his next UFC battle later this year, said he's proud that Penrith and western Sydney has a beer it can call its own.
"I'm born and raised here and I'm a very proud western Sydney person," he said.
"This partnership is very exciting. It's very big news."
Fellow UFC fighter Tyson Pedro said it's been a terrific ride for the business.
"Tai asked me to come on board because he didn't really like beer and I did… it's obviously changed now because he's drinking a lot of beer," he joked.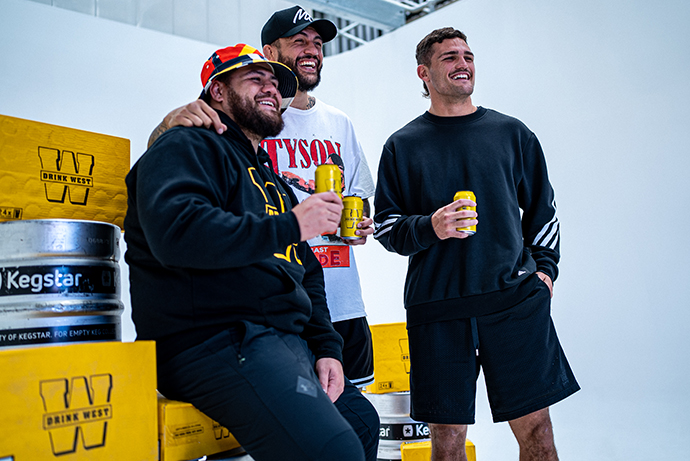 "This partnership with UFC almost instantly legitimises us. Before we're just an independent beer, now it shows we're international and serious. We want to take hold of the western Sydney market before we go too big but by September this year we should be making some big moves."
Pedro said Drink West, which is currently going through a capital raising exercise and recently welcomed Penrith Panthers superstar Nathan Cleary to the ownership group, was never intended to be a small player nor a craft beer.
"We saw everyone doing the fruity and craft beers and that's all well and good but we're from the west – we want cheap and nasty," he said.
"We understand we're going against the big boys but we think we can get a real foot in the market."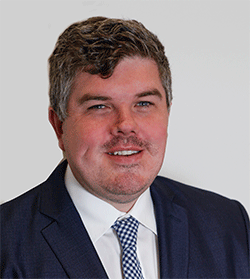 Troy Dodds is the Weekender's Managing Editor and Senior Writer. He has more than 20 years experience as a journalist, working with some of Australia's leading media organisations.