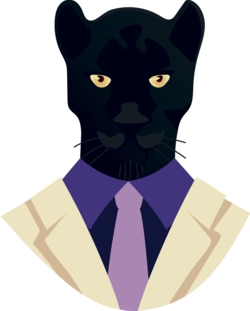 Wiggles offer unique pre-game build-up
If you ever wanted confirmation that family drives the Panthers, this photo locks it in.
Moses Leota, James Fisher-Harris, Dylan Edwards and Jarome Luai were among the players who all attended The Wiggles' concert at Qudos Bank Arena last weekend, with their families in tow.
It's not quite the pre-game bonding sessions of the past, but it's working wonders at the foot of the Mountains.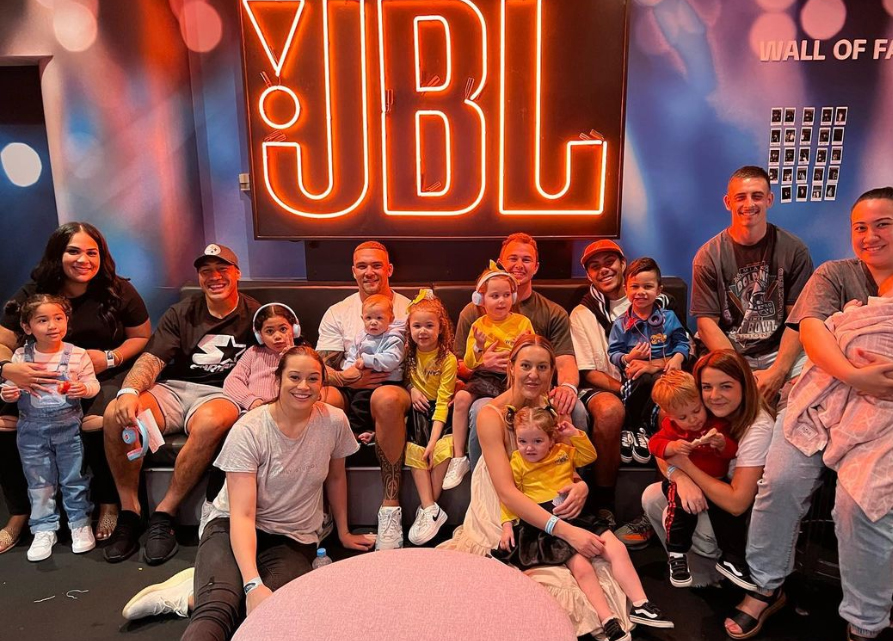 In Dad's footsteps
With Penrith expected to field an NRLW team in the coming years, could we one day see some female Panther cubs from the current NRL group involved?
She may still be in pre-school, but James Fisher-Harris' daughter Tahira is already showing some interest in following in her famous father's footsteps. Asked whether his daughter will be playing rugby league in the ensuing years, he said: "Yeah soon, soon. She has an interest in playing but she's still raw. I think we'll get her into something. She's keen on whatever."
Fisher-Harris, who also has an eighth-month-old son named Deon with his partner Natalie, said his children are very close with his teammates' kids, which can only be a good thing for the future success of the Panthers.
"It's a good family vibe around the club because all the boys have kids and they are all around the same age," he said.
"Their bond was formed up on the Sunshine Coast last year, they all built a good connection up there and all the kids are super close now."
Ride for Royce
Royce Simmons' dementia fundraiser is going international. Several of his former players at Hull FC, where he coached in the mid 1990s, will ride from Hull to St Helens (Simmons coached there too, in 2011 and 2012) to raise funds for the cause.
The Hull FC ex-players association arranged the ride between the two stadiums. They will set off on Thursday, May 12 – five days before Simmons departs his hometown Gooloogong en route to BlueBet Stadium at Penrith – and ride more than 160kms along the Trans Pennine Trail to Merseyside in time to attend the Super League clash between Hull and St Helens next day.
Among the former Hull players taking part will be Jon Aston, Dean Busby, Matt Schultz, Richard Fletcher, Craig O'Donnell, Steve Crooks and Keith Tindall, some of whom played under Simmons during their time at The Boulevard.
Buzz's obsession
Daily Telegraph journalist Phil Rothfield continued his bizarre obsession with Penrith's Board on Monday, taking another veiled shot at Directors whose businesses have been (legitimately) paid for work by the Panthers Group.
Rothfield's constant pot shots show little knowledge of the Penrith business community, what services were actually rendered and expose his confusion between the football program and the wider Group.
If 'Buzz' is going to continue to mention this on a regular basis, he should at least do some research to ensure his readers understand the context of what he's insinuating.
Sensational Soni
From injured players to lower graders, there was a huge roar from the players' bay at BlueBet Stadium last Sunday when Soni Luke (pictured) ran onto the field to make his NRL debut. There's huge wraps on the St Marys junior, who will battle it out with Mitch Kenny for Penrith's hooker role next year when Api Koroisau departs.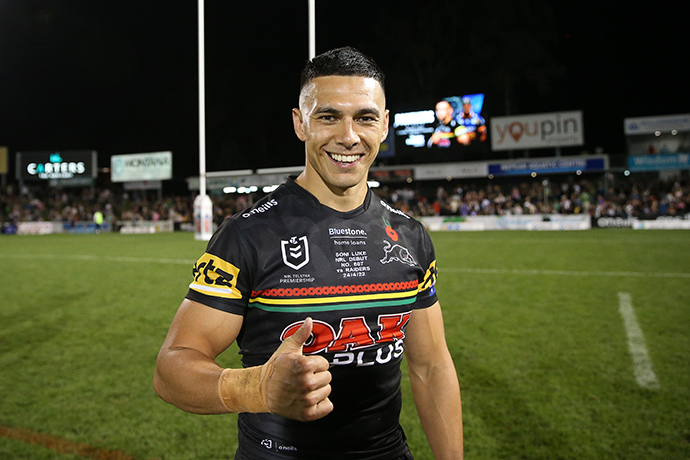 O'Sullivan set to depart
The drums are beating louder that back-up halfback Sean O'Sullivan will leave Penrith at the end of the season to join new NRL franchise the Dolphins, where his father Peter is the Recruitment Manager.
While the Dolphins are flat out denying they've signed O'Sullivan, he's an obvious target given he'll always be stuck behind Nathan Cleary at Penrith. Panthers fans can't be too disappointed if O'Sullivan departs – the club only signed him for one year.
I checked in with the Dolphins this week but they remain adamant they haven't spoken to O'Sullivan.
Slow clap
Penrith fans mocking the Viking Clap is a bit of harmless fun all part of the rivalry that is rugby league.
For it to blow up into anything else this week is nothing short of ridiculous. Firstly, let's remember and accept that Canberra didn't invent the Viking Clap – as good as it is at Raiders home games, they stole it from overseas.
Secondly, when you make it such a huge part of a pre-game ritual that is shown before every home game, it's obvious that you open yourself up to being mocked at away games when you're losing.
Thirdly, Michael Ennis mocked the Viking Clap as a PLAYER on another team, and ended up being employed by Canberra, so they can't be too sensitive about it.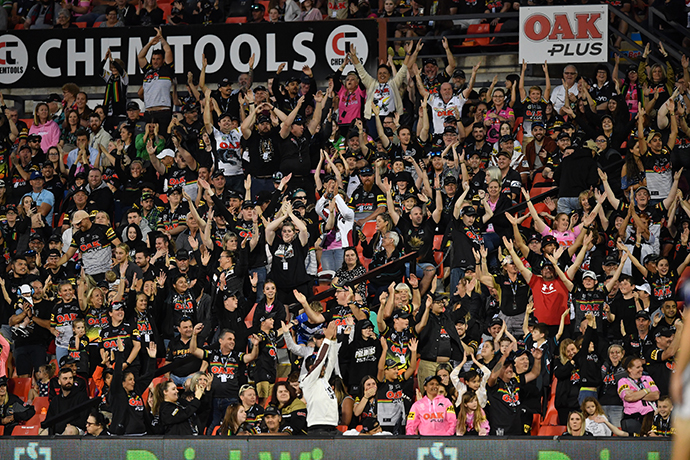 Born to be a Panther
630 new Panthers fans have a special NRL commemorative birth certificate, new figures confirm.
The NSW Government initiative allows parents to get a club-themed birth certificate for their newborn. Since the concept was launched in 2016, the Bulldogs lead the pack with a grand total of 1509 themed certificates.
The Panthers are 10th on the table, with the 2021 Premiership year being the most popular with 147 certificates ordered.
Spotted
Red faced: Panthers ground announcer Zac Bailey left hanging by Fox Sports sideline eye Jake Duke in a high five gone wrong moment at BlueBet Stadium on Sunday.
Checking in: Panthers legend Royce Simmons in the Wests Tigers dressing rooms after their 23-22 win over Souths last Saturday night. Simmons previously worked at the club as an assistant coach.
Tago should stick to footy
It was disappointing to see boom centre Izack Tago share an anti-vax post on Instagram earlier this week.
The post was uninformed, uneducated and out of context.
Tago eventually deleted the 'story' well before it was due to expire.